7 Healthy Snacks That Wellness CEOs Keep At Work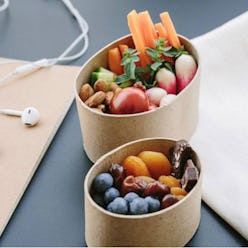 It doesn't matter if you're the assistant or the CEO: Everyone gets the midday munchies.
And while at home you can whip up whatever your heart desires, like sweet potato avocado toast or a green smoothie, at work healthy snacking requires a little more planning. After all, most offices don't have a Vitamix in the kitchenette—and not all nutrition bars are actually nutritious. But like bullet journaling, it so makes a difference: The wrong mini-meal could inadvertently cause your energy to tank way before 6pm.
So, what should you be reaching for? Here, seven super-busy wellness execs share their go-to work snacks. (With schedules like theirs, you know there's no messing around in the fuel department.) While their preferences are all over the board, everyone's nosh of choice is undeniably quick to make, easy to eat and majorly good for you.
Get ready to give your desk drawer a serious makeover—no chips invited.
For the rest of the snacks and other health tips, go to Well+Good.
Greek Yogurt Parfaits
At the Dona Chai office, yogurt parfaits aren't just for breakfast. "My team and I are really into them—just, you know, ten years behind the trend," jokes co-founder Amy Rothstein. "We've been stocking family-sized containers of Greek yogurt, fruit and granola so everyone can build their own."
What's especially genius about this option is it never gets boring if you swap out your yogurt flavor and toppings each week. (Might I suggest this probiotic-packed coconut yogurt that everyone's freaking out over?)
Almond Butter Packets
It's no surprise that Epic Provisions co-founder Katie Forrest puts protein first when it comes to snacking. (I mean, she has built a bona fide jerky empire.) "I keep our snack strips at work and also almond butter packets," she says.
Both are perfect on-the-go options when you're peckish in between meetings—though I wouldn't recommend eating them together.
Snack Bars
Even fitness titans cave into sugar cravings every now and again. "I admittedly am notorious for doing a drive-by of the candy jars in the kitchen, which are full of Skittles and gummy bears," says ClassPass founder and executive chairman Payal Kadakia.
To ensure she's got a better option at the ready, Kadakia stocks her desk with Kashi bars, peanut butter and carrots. All have a hint of sweetness, without the refined sugar of the shared office snacks.