5 Instagram Accounts That Solve Your What-To-Make-For-Dinner Dilemma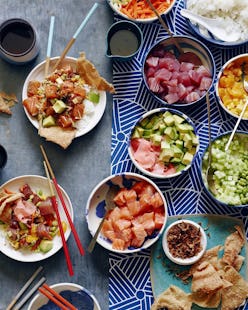 Still not sure what to make for dinner tonight? We know it's easy just to throw in the towel and opt for yet another night of takeout, but don't let your kitchen (and your checking account) go to waste. Since there's nothing like a series of delicious-looking dinner photos to inspire your appetite and inner chef, we've rounded up 5 Instagram accounts that never disappoint. Ranging from the more indulgent, comfort foods to the vegan and gluten-free options, these are the feeds you'll want to feed off of for endless dinner inspiration. Bon Appétit!
For The Sous Chef
Adrianna Adarme, the LA local behind food blog A Cozy Kitchen and recently released cookbook The Year of Cozy, has a simple straightforward approach to dinner. Her step-by-step pictures are perfect for learning how to make everything from cucumber tuna salad to pizza and even breakfast tacos.
For The Experimental Chef
Not only are Stephanie Le's recipes super inventive (ranging from delightful mash-ups of BLT fried rice to pierogi grilled cheese), her feed also serves as a course in plating, which means your dinners will be as 'grammable as they are delicious.
For The Next Master Chef
Think poke bowls are only available at your favorite restaurant? Think again. Gaby Dalkin is all about easy-to-excecute recipes that just look difficult to make. Can't wait to impress your friends with your newfound cooking skills? Neither can we.
For The Aspiring Chef
Wonderfully minimalistic and perfectly curated, Molly Yeh's beautiful dishes are enough to get you inspired to plan meals for the rest of the week. Trust us on this one.
For The Health-Conscious Chef
With a healthy mixture of the indulgent, vegan, and health-conscious recipes, Lily Diamond shares recipes for everything from vegan milkshakes to tofu tacos and fig and chèvre pizzas, to name a few. There's definitely something for every craving, no matter what your eating habits.