4 Things You Need to Know About the Insanely Cool New Tracy Anderson-Gwyneth Paltrow Studio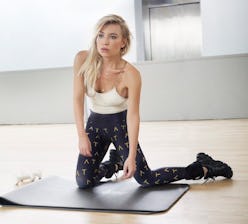 When dream team Gwyneth Paltrow and Tracy Anderson announced their conscious coupling for an upcoming studio space on 59th Street in New York City last summer, they floated some tantalizing details: It would be in an old movie theater, with about 5,000 square feet and 20-foot (!) ceilings.
And now, with the opening only days away—doors officially open on March 1—Anderson offered us a sneak peek on what's about to be unveiled. And you guys, it's good. For starters, the cafe next door will feature a menu designed by everyone's favorite Oscar-winning clean beauty guru ( and #nomakeup fan). Plus, it'll have everything you expect from Anderson—and more.
"This is seriously the studio of my dreams—for me, I feel like I've finally been able to perfect the content, music, floor, everything that goes into giving our clients to best workout possible," Anderson says. "When it comes to the design specs, I've given all of the reins to the pros and my brilliant team to pull together the coolest, chicest, and smartest architectural designs—and it's really turned out beautifully."
For all 4 facts (and for more on how to join), check out the original article on Well + Good.
It's Still a Movie Theater
While some fitness studios would completely gut the previous owners' setup, Anderson used it to her advantage, creating a space that channels that Hollywood feel: "I feel like it's this really cool symbolism because my entire mission of my job has always been to help people become the stars of their own bodies and lives," she explains.
With the marquee still lit out front—announcing class times, instead of matinees—and corporate offices housed in the old projection room looking out over the large studio, the new workout palace still holds some of those "opening night" details.
But they've turned the old screening rooms into dance cardio dream spots—adding in Anderson's signature Super G shock-absorbent floor, soundproof walls (to contain that state-of-the-art sound system), and super specific temperatures for the ultimate sweat sesh. Plus, she teases that she might even throw in some super healthy popcorn down the line (fingers crossed).
About This Gwyneth Cafe
I couldn't leave the call without asking about the cafe, based off of Anderson's organic food line with Paltrow, 3 Green Hearts—which she says is a totally equal collaboration.
"We're so close, so the nice thing about our friendship and partnership is that we have become so aligned in all of our decisions," she explains. Paltrow is the brains behind the recipes—and she even chimes in on the song choices used in classes if she doesn't like them, Anderson says.
"She's so knowledgeable about using whole foods and organic ingredients, but some of her recipes aren't exactly weight loss-conducive," says Anderson, so they've set up a system of putting a green heart on the fitness guru's picks.
Her favorite menu items? Any and all of the tacos and salads, which she says all include digestive enzymes and probiotics, to be healthy but satisfying.
And while the cafe is adjacent to the studio, it's not exclusive to members—anyone can pop in to try something out or use the meal delivery service. (Anyone up for GP-approved tacos tonight?)
There's A Selfie Room
And to help you own your star quality? Anderson's team has installed a photo-ready space, perfect for capturing that post-sweat glow. "We have such an amazing sense of community on social media," Anderson explains, referencing her #TAmily on Instagram. "Everyone is so smart and accepting, so we wanted to give everyone a chance to channel that camaraderie in the studio."
For all 4 facts, check out the original article on Well + Good.