Vegetable-Infused Cocktails Are The Perfect Savory End-Of-Summer Sip
Delicious and (kind of) nutritious.
Image Professionals GmbH/Foodcollection/Getty Images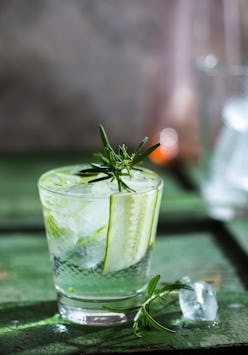 The mixology scene is going green… and red and orange. While fruit-based cocktails have been a staple in the spirit circuit, another form of produce is proving that it's time to think outside the glass. Vegetables are stealing the spotlight; from carrots and cucumbers to beets and peppers, farm-to-table foods are demanding their well-deserved, long-overdue attention in boozy beverages. Not only do veggie concoctions provide gorgeous aesthetics with their vibrant colors, but these garden-infused libations also bring a range of flavors, including zesty, earthy, and umami. There's one thing for sure: Imbibing these savory cocktails is one indulgence you don't have to feel too guilty about.
Grey Goose ambassador Joshua Jancewicz believes that veggie cocktails have gained popularity and become a current trend because of the rise in consumers that are focused on living more organically minded, plant-based lifestyles. "Many have been seeking creative and flavorful alternatives to traditional cocktails that can offer fewer calories or an added source of vegetables," he says. "There are many benefits to drinking veggie cocktails. Nutritional value, hydration, fiber content, dietary preferences, and restrictions."
Diana Novak-Tedd, national director of spirits education at Palm Bay International and portfolio manager at Yobo Soju Drinks and Bottega Spirits, agrees. She adds that vegetables offer "powerful antioxidants, vitamins, and other health properties" as well as "an opportunity to capitalize on a wide array of earthy, savory, spicy, clean flavor profiles."
In terms of where the trend is heading, Novak-Tedd has no doubt that between demand and imagination, it's full steam ahead. "With so much interest and willingness to experiment, I think you'll see more integration of beet, carrot, sweet potato, and even the incorporation of some umami flavors through infusion, such as mushrooms," she says. "Additionally, for those low- and no-waste establishments, I think you'll see more and more crossover from kitchen to bar as they utilize all of the elements of each vegetable in a wide range of expressions."
When it comes to pairing spirits with vegetables to create libations, she is fond of using gin and agave-based spirits (like tequila and mezcal) but is sure to mention that "vegetables can work with nearly any spirit there is."
For Jancewicz, the pairing between veggie and spirit ultimately depends on one's personal preferences, and he's not shy about expressing his. "I like to use clear spirits, specifically Grey Goose for my veggie cocktails," he says. "I feel like the number one spirit with veggie cocktails will be vodka due to the bloody mary, but other clear spirits mix great as well."
Veggie Cocktails Rules Of Thumb
Entering new territory and creating your own veggie cocktail at home can be daunting, but you're not in this alone. Our experts offer tips to help make your entry into the realm of veggie cocktails simple and seamless. Novak-Tedd's first tip is to use the juice of your vegetable of choice as it's the easiest and it doesn't matter if you use a home juicer or purchase fresh bottled juice of said veggie. Another worthy base option she recommends is a puree. "I often have used pumpkin in the fall to add in that earthy sweet flavor without the added sugar to create the [taste] profile I'm looking for," she shares. For those at-home mixologists who want to step up their game, she has a more advanced approach. "A more time investment-based use of vegetables could be doing infusions using veggies that aren't as easy to break down into a juice or puree format — mushrooms, for example."
Another thing to be mindful of, Novak-Tedd says, is how you prepare your produce prior to any shaking or stirring. "With many vegetables, removing the seeds is important," she adds, "also doing a fine strain before use to ensure you're not getting the meat of the vegetable in the juice you've created."
She also encourages at-home mixologists get creative with their veggie prep. "While raw veggies present a great way to introduce flavors, doing something like roasting, grilling, or cooking the vegetables to release different flavors can change the landscape of the cocktail you're working with," she says. She offers examples like roasting carrots before juicing or pureeing to highlight and incorporate that caramelized flavor into your libation.
Lastly, Jancewicz wants to remind everyone to add ice. "Properly chilling your veggie cocktails is crucial to ensure the drink stays cold and you achieve proper dilution," he says.
Ahead, expert-approved veggie cocktail recipes to help you reap and drink the benefits of nature's bounty.
Beets For The Bloody
Novak-Tedd enjoys this cocktail because it incorporates multiple vegetables. "The earthiness of the beet juice combined with the brightness of the kale, and the anchored spice of jalapeño — this truly is your vegetable alternative to a bloody mary, filled with complexity and vitamins," she says.
Ingredients
1.5 oz Sausage Tree Vodka
1 oz beet juice
0.5 oz lemon juice
0.5 oz agave
0.5 oz kale juice
1 round jalapeño (remove seeds)
3 slices fresh ginger
1 tsp black pepper
2 turns pink Himalayan sea salt
Smoked paprika (for garnish)
Instructions
Combine ginger, agave, lemon, and jalapeño in a shaker and muddle. Add the juices and the vodka. Add ice and roll to combine. Rim a pint glass with smoked paprika and Himalayan sea salt. (Optional: Leave muddled ingredients or double strain into new ice-filled glass.)
Cucumber Fizz
Your spa water with cut-up cucumber just got a tasty upgrade. Jancewicz says that cocktail recipes that involve cucumber "give a subtle but strong flavor."
Ingredients
1.5 oz GREY GOOSE® La Poire
0.5 oz ST-GERMAIN® Elderflower Liqueur
2 oz juiced cucumber
0.5 oz lemon juice
0.5 oz simple syrup
Soda water
Instructions
In a cocktail shaker, mix all ingredients. Shake vigorously and double strain. Serve in a highball glass with cubed ice and garnish with mint, cucumber slices, and lemon zest.
Maestro Dobel One Carat
Carrots are good for the eyes, and this cocktail is good for your soul. The veggie-based drink brings the perfect balance of sweet and savory, plus a little kick from the cinnamon syrup.
Ingredients
1.5 oz Maestro Dobel Diamante
0.5 oz Ancho Reyes liquor
1 oz carrot juice
0.5 oz lemon juice
0.5 oz cinnamon syrup
Basil leaf (for garnish)
Instructions
Pour all ingredients into a cocktail shaker. Shake and serve over ice. Garnish with a basil leaf.
Bell [Pepper] Of The Ball
Created by Chambord Brand ambassador Gianna Burns, bell pepper gets its chance to shine in the spotlight. The pepper-infused vodka brings the perfect amount of earthy flavor while the lychee juice and ginger syrup add sweet and unique notes.
Ingredients
1 oz Finlandia Vodka
1 oz Bell Pepper-infused Finlandia Vodka
1 oz Chambord
0.75 oz lime juice
0.5 oz lychee juice
0.5 oz ginger syrup
Cucumber (for garnish)
Instructions
Combine all ingredients in a shaker. Hard shake then strain over pebble ice. Garnish with a thinly sliced cucumber rolled up.
Cazadores Avocado Margarita
Guac may cost extra at some restaurants, but this avocado marg is extra in a different way. It adds creaminess and subtle sweetness to the spicy blended cocktail featuring lime juice and serrano chili.
Ingredients
1.5 oz Tequila CAZADORES Blanco
0.25 oz avocado
1 oz simple syrup
1 oz fresh lime juice
1 slice serrano chili
1 pinch of celery salt for the rim
1 chili or avocado slice to garnish
Instructions
In a blender, add all ingredients with ice and blend. Serve in a margarita or rocks glass with a celery salt rim. Garnish with an avocado or pepper.