The City That's Becoming A Top Destination For Bachelorette Parties
Jacob Lund/Shutterstock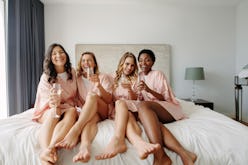 With group travel being trendier than ever, it's no wonder that destination bachelorette parties are trending, too. Brides-to-be and their besties are taking to the road and sky to have one last "hurrah" before tying the knot. And thanks to the options offered by accommodation sites, squads can book spacious dwellings and split the cost for an affordable getaway that lasts longer than your average party.
Ali Killam, consumer trends spokesperson at Airbnb, says the company has seen an uptick in group travel in recent years. "Group travel has become increasingly popular, given the ease of booking a wide variety of homes on the platform for all party sizes and celebrations," she explains. "Plus, with our 'pay less upfront' feature, groups can easily manage the financial aspect of planning by paying for part of the trip when they book, and then [paying for] the remaining balance closer to the check-in date."
If you're looking for an unforgettable way to bid your singlehood farewell, consider taking your crew out of town, state, or even country. Ahead, the experts at Airbnb give their top picks for the best listings to book a bachelorette bash. Whether you want to party in a posh high-rise or relax in a seaside villa, there's an Airbnb to suit your style, near or far.
Nothing says "bachelorette party" like a girl's trip to Vegas, and thanks to Airbnb, an extended pre-wedding party can be more affordable than ever. This spacious two-bedroom apartment is managed by a superhost and can accommodate up to 16 guests, so all your friends (and then some) can come. After hitting the town with your crew, come back to the suite and relax in the hot tub, located on a balcony that offers stunning skyline views.
With an endless supply of entertainment, it's no wonder that friend groups are hitting the road and heading to the country music capital. You and your friends can experience the best of Nashville while staying in this highly-rated downtown loft, set in a building with historic charm and modern amenities. Here, you can walk to restaurants, museums, and bars, or easily grab an Uber or Lyft if you're venturing outside the neighborhood.
Perhaps you're in need of a low-key bachelorette trip to unwind from the stresses of wedding planning. If this is the case, you and your ladies can stay at this top-rated Victorian in Santa Barbara, which accommodates up to 12 guests. Walk to the beach and relax in the sun, or head downtown to find plenty of shops, restaurants, cafes, museums, and of course, wineries with tastings. After packing it in for the evening, take a soak in the property's private hot tub — glass of wine optional.
Looking for a resort-like experience à la the Sex And The City movie? This six-bedroom villa, which sleeps 12, will make you a bachelorette in paradise. This luxurious listing has all the frills you could ask for, including a pool, jacuzzi, gym, outdoor grilling area, and a concierge service that can help you book a private chef, in-house massages, transportation, and more. It's close to the beach and downtown, although you may not want to leave, as evident by this listing's glowing reviews.
5. Montreal || Artists Loft || $222/night
This historic manufacturing facility-turned-apartment mixes Old World magic with trendy decor touches. In addition to the artsy and airy atmosphere, you and your friends (up to nine of them, in fact) will love this loft's downtown location. Dozens of bookers gave this place five stars, thanks to its sparkling cleanliness and proximity to the shops, restaurants, and bars of Montreal's Old Port. It's the perfect spot for brides-to-be who want a taste of European flair without the cost of airfare.
If you and the girls are looking to go all out, take a trip to Vieques in Puerto Rico. This five-star villa boasts turquoise water views, a private pool, outdoor showers, and is even steps from the nearby Coco Beach. Other celeb-worthy accommodations include meals cooked by a chef, on-site massages, or private tours. With room for 16+ guests, you can bring your whole posse to celebrate your soon-to-be wife status.