The Best LA Florists to Follow on Instagram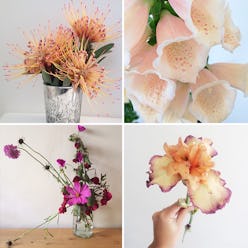 No matter what aesthetic your living space ascribes to, well-composed bouquets should play a starring role. But since we don't all have an eye for arrangement (or the time to think up new ways to position our foliage), a daily dose of floral inspiration might be in order. Whether you're in LA or just trying to catch the vibes elsewhere, we've compiled a list of the best Los Angeles-based florists to follow on Instagram.
Flower Power
@ericbuterbaugh
Though his arrangements are beyond stunning, florist-to-the-stars Eric Buterbaugh's Insta fame is partially attributed to his penchant for reposting sassy quotes and captioning them time and time again with the simple hashtag #exactly. Of course, his perfect snaps of peonies don't hurt, either.
@blumeandplume
If you're searching for subtle, look elsewhere. Bloom and Plume's Maurice Harris is a true dreamer, who has brought to life countless over-the-top bouquets and installations.
@mooncanyon
Moon Canyon is a great floral find on the East side of Los Angeles. Look to founder Kristen Caissie's Instagram for refreshingly simple, elegant arrangements that scream California freshness.
@black.rose.floral
For those in the mood for high drama, look no further than The Black Rose. Founder Rachel Nina Schwartz has a background in fashion design and a love of Renaissance still-life painting, both of which make their way into her awe-inspiring arrangements.
@theboskydell
The Bosky Dell is a floral studio that pays special attention to the smallest of details. Follow their account for an exercise in floral minimalism.
@flowergirllosangeles
Kelsey Harper's Flower Girl Los Angeles is every LA girl's one stop shop for the chicest, most California-inspired arrangements and flower crowns. Harper's Instagram is a perfect mix of her stunning bouquets and her enviable life as a new mom to one of the cutest babies around.
@tigrelili
Lili Celine Cuzor's Insta account is a celebration of wildflowers, plants, and the magic they create. Follow if you want to put those mysteriously-growing plants in your backyard to good use.
@yasminemei
Yasmine Floral Design consistently creates classic, minimal bouquets that just work. Her account is the go-to for inspiring floral photos and coastal travel pics to lust after.
@birchandbone
Birch and Bone was started by co-founder of famed LA butcher shop Lindy and Grundy. Though her aesthetic has surely changed, Amelia Rose Posada approaches plants with the same attention to detail and insistence on quality as she did in her previous pursuits. Follow the account for loads of succulent inspiration.
@jeffleatham
Jeff Leatham might just be the reigning king of the floral world. As the artistic director of the Four Seasons Hotel in Paris, Leatham is never short on beautiful backdrops for his stunning shots. Follow his account to fall into flower heaven.