Stylish Workout Gear For The New Year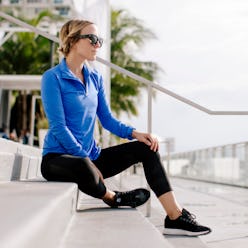 No doubt one of your New Year's resolutions is to get in shape, which means cool workout gear is essential. Los Angeles Damsel In Dior blogger Jacey Duprie is showing us how to look chic at the gym—and running errands afterward. See her favorite pieces from GapFit here.
Look Cute While Working Out
Workout Staples: A bright, moisture-wicking pullover, super-flattering gFast leggings, great music and healthy snacks.
Workout Staples: Jacey opts for breathable four-way stretch leggings with a subtle print—perfect for working out then hitting the shops.
Workout Staples: For an early morning workout, Jacey relies on high-performance leggings, a supportive sports bra (bonus points for a version with stylish straps), and plenty of vitamin C and potassium.