Spring 2023 Cocktails To Serve For Your Next Outdoor Soiree
Raise a glass to the season.
Shutterstock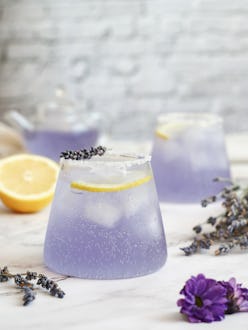 As the weather warms up and people start spending more time outdoors, the change of the season means one thing: light and refreshing spring cocktails. Since this is typically a time of renewal and growth, it's perfect for those who want to experiment with new trends in their boozy beverages.
"When I think of trendy flavor profiles for spring 2023 cocktails, the words 'refreshing,' 'bitter in the best way,' 'bright,' and 'vegetal' come to mind due to the inclusion of ingredients like grapefruit, bitters, amaro, Prosecco, and more," says Jaime Salas, head of advocacy for Gran Centenario Tequila, Maestro Dobel Tequila, and 400 Conejos Mezcal.
Jane Danger, a member of the national mixology team at Pernod Ricard USA and author of  Cuban Cocktails and The Bourbon Bartender, says her take on the trends that will reign supreme this spring gravitates toward the sweeter side. "Classic ingredients such as berries, citruses, and florals will make their comeback to the cocktail trends [this spring]," Danger says.
From fruity concoctions to floral infusions, there's truly a drink for everyone for the months head. To help you properly prepare for your next outdoor gathering, below, a few of are our experts' favorite upcoming cocktails for spring.
Low-ABV Cocktails
One of the biggest trends this season is the continuing rise of low-alcohol cocktails. Danger shares her thoughts on why this wave isn't dying down. "What started as a 'Dry January' [fad] has turned to a consistent 'Damp Living' lifestyle," she says. "Consumers are looking to find convivial moments in moderation throughout the year, especially as the weather warms up in the spring and summer and daytime drinking occasions are more common." With some people looking to cut down on their alcohol intake and others preferring low-ABV beverages so they can indulge a bit more, bartenders are getting creative with low-proof spirits. "Mixologists have begun adding more low-ABV options on cocktail menus, like the Lillet Spritz to meet this consumer need," Danger explains.
Twists On the Classics
Salas is excited at the idea that everything old is new again. "Bartenders and mixologists continue to get creative by mixing up cocktails that are typically known for one spirit and replacing them with another," he says. "When we first launched Gran Centenario Cristalino for example, we created signature cocktails that were based on traditional whiskey or gin cocktails, including a Whiskey Smash, Old Fashioned, and Negroni. If you've never experimented with these riffs on the classics, you're in for a real treat."
Floral & Botanical Flavors
Miranda Priestly was wrong. Florals for spring are groundbreaking — in cocktails, that is. "Spring allows for fresher produce and florals to be incorporated into drinks rather than dried or concentrated versions," Danger shares. "I see a rise in the use of elderflower in cocktails since its notes are a combination of berry-scented aromas with citrus and floral tastes — all of which are absolutely reminiscent of spring favorites. Lillet has an amazing Elderflower Spritz recipe that we worked on a while ago."
"Aside from elderflower, classic herbaceous florals such as thyme, mint, and lavender will be popular, too," she says. This notable trend isn't limited to adding flavor. Danger continues, "Since floral-flavored drinks are all the hype, in-season florals, and herbs will be incorporated into drink presentations to make them more aesthetically pleasing."
Espresso Martinis
Another recent trend that doesn't seem to be budging, according to Salas, is the espresso martini craze, but it has some surprises in store, particularly with its main spirit. "We'll continue to see many variations of this drink as we head into the spring season. We worked on a delicious 'Gran Espresso' recipe with Gran Centenario Añejo Tequila that's very easy for agave and coffee enthusiasts to make at home. Perfect for a post-dinner libation to kick off your night," he says.
Bubbly Cocktails
If you're a fan of effervescence, Salas' next prediction is right up your alley. "Bubbly 'brunch-like' cocktails will also trend as the weather turns warmer, especially those where we see spirits combined with effervescent mixers," he says. "One favorite that comes to mind is a recipe we developed for Gran Centenario in collaboration with Chef Pati Jinich — a tequila mimosa, which combines a 'piquetito' (a little bit) of Gran Centenario Plata Tequila, Prosecco, fresh grapefruit juice, and honey."
Rules Of Thumb
Whether you're looking to impress guests or simply enjoy a refreshing drink after a long day, our experts have a few tips to help you create delicious and well-balanced spring cocktails. "The most important thing is to select a quality spirit," Salas says. "For example, if you're going for tequila, it's important to choose a product made with the finest 100% blue weber agaves, unparalleled in their quality and the heart of the spirit," he explains.
Salas adds that using fresh ingredients in your spirits should also be a priority. "Whether it be fruits, vegetables, or herbs, your cocktails will simply taste much better," he explains. And, always make sure to keep your bar stocked with cocktail modifiers for guests and yourself. "If you like a spritz, make sure to stock up on good bitters," Salas recommends.
Finally, while all these cocktail trends are exciting, as an at-home mixologist, sometimes it's best not to take on too much. "Start with something simple and classic, choosing flavors and a cocktail you like – in which you can alter one to two ingredients to experiment with and the remaining are trusted profiles," Danger advises. "The easiest would be to choose an aperitif and shake it with flavored sparkling water and a dash of a preferred fruit garnish. The Lillet Spritz is a simple classic— it's light, refreshing, and extremely easy to mix up. At-home mixologists can easily upgrade this simple cocktail by swapping out Lillet Blanc for Lillet Rosé or Lillet Rouge, add sparkling water, or mix up the garnish."
Ahead, some key starter recipes to help you hit the ground running this spring. Cheers!
Lillet Rosé Spritz
"Treat your guests with tasty pink bubbles," Danger says. "The sweetness of Lillet mixed with the bitterness of soda water makes it an ideal pre-dinner drink."
Ingredients
3 parts of Lillet Rosé
3 parts of soda water
Recommended garnish: a slice of grapefruit or orange
Instructions
Shake Lillet Blanc and soda water with ice, and strain into a wine glass filled with ice. Garnish with a slice of grapefruit or orange.
Gran Centenario Mimosa
For Salas, "This recipe represents spring in a glass: Tequila, Prosecco, fresh grapefruit juice, and honey…a perfect combination, if you ask me."
Ingredients
Splash of Gran Centenario Plata Tequila
4 oz Prosecco
2 oz fresh grapefruit juice
0.5 oz honey
Garnish: grapefruit wedge
Method
Pour chilled Prosecco into a wine glass. Dissolve honey into chilled grapefruit juice and then slowly pour over Prosecco. Top it off with a "piquetito" (about .5 oz) of Gran Centenario Plata tequila and apply garnish.
Lillet Frozé
Danger has a tasty solution for the spring heat. "On an extremely hot day, I would aim for a Lillet Frozé — more of an effort but absolutely worth it. It's the perfect low-ABV refresher for the afternoon heat," she says.
Ingredients
3 oz Lillet Rosé
3 oz fresh lemonade
Recommended Garnish: lemon wheel
Method
Add all ingredients to a blender with ice and blend to desired consistency. Garnish with a lemon wheel.
Gran Espresso
According to Salas, "Espresso drinks are extremely trendy right now and this delicious recipe from Gran Centenario combines my love for both agave and coffee."
Ingredients
1.75 oz Gran Centenario Añejo Tequila
1 oz coffee liqueur
1 shot espresso
.5 oz condensed milk
1 pinch salt
Garnish: Orange slice and espresso beans
Method
Pour condensed milk into a shaker, followed by all remaining ingredients. Add ice, shake, and strain over fresh ice into a rocks glass. Garnish with an orange slice and espresso beans.