Sparkling Wines Aren't Just For The Holidays
How to make them shine during the summer.
Cavan Images / Dorene Hookey/Cavan/Getty Images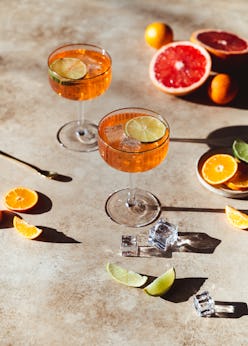 We may receive a portion of sales if you purchase a product through a link in this article.
The pop of a Champagne cork is often synonymous with the winter holidays, the stroke of midnight on New Year's Eve, or the start of a festive December celebration, but it shouldn't have to. There's no need to reserve fizzy beverages for the end of the year. From Champagne and prosecco to cava these sparkling wines for summer can (and should) be enjoyed as an everyday indulgence, elevating an ordinary day into a festive occasion.
When it comes to these sparkling varietals of effervescent elixirs, there are a few factors that determine their differences and similarities. Luckily, we have a handful of experts to help educate and guide us through each of these sparkling sips. Theo Rutherford, senior manager of wine and spirits education at Deutsch Family Wine and Spirits, starts by explaining that the region in which they are produced plays the most prominent role in determining every aspect of the wine in question.
The location also determines what kinds of grapes are allowed to be used, another huge determining factor in the wine's flavor profile. "For instance, prosecco, which must be made in a very certain part of Northeastern Italy surrounding Venice, can only use glera grapes (also called prosecco)," he says. "When you make prosecco rosé, you may add only up to 15% pinot noir to the mix. Other regions have other laws that govern what they can and cannot do, how they can be made."
Ahead, TZR breaks down the four main sparkling wine varietals so you can best determine which one to sip on for your next summer soirée.
Champagne
Perhaps the most iconic member of the sparkling wines category is Champagne. It's a symbol of status and sophistication, but it's also so much more. First, it's important to break down the basics. Champagne is exclusively produced in the Champagne region of France. The grape varieties that are used are chardonnay, pinot noir, and pinot meunier.
Elise Cordell, educator and brand ambassador for Perrier-Jouët and G.H. Mumm Champagnes at Pernod-Ricard expounds on the flavor profile of the renowned beverage. While there's a "wide range of aroma and flavor profiles" that vary depending on the producer, there are plenty of commonalities in all Champagne. "Generally speaking, you'll find primary notes of tree fruit like apples and pears, red and black fruit, stone fruit, and citrus, which are supported by hints of brioche, pastry, toasted nuts, and spices," she says. "Many of these characteristics carry over onto the palate and evolve over time. Champagne tends to be more mineral and rich due to the climatic characteristics, grapes utilized, and aging practices," she adds.
Cordell is adamant that the experience of enjoying champagne is flexible and based on personal preferences, but there is one thing everyone should keep in mind. "Balance is always the pursuit whether you're sipping Champagne in your favorite glass or creating a cocktail," she says.
As to how to tailor your Champagne experience to your preferred flavor preference, she has some helpful tips. "Sweeter Champagnes are great over ice and garnished with frozen fruit or a splash of puree," she advises. "I gravitate towards a brut style of Champagne for sipping and cocktails because the former is incredibly food friendly and refreshing, and the latter I have more control over the final level of sweetness if I'm adding liqueurs, cordials, citrus juices, muddled fruit, infused simple syrups, or other spirits as a part of my cocktail recipe."
Prosecco
This Italian sparkling wine is known for its light, fruity, floral flavor. "Oftentimes, prosecco exhibits fruit flavors such as green apple, pear, lemon, and occasionally tropical fruits. The fruits are balanced out with the addition of floral aromas such as honeysuckle and other white flowers," he says.
One thing Rutherford explains sets prosecco apart is that it tends to have slightly larger and gentler bubbles than other sparkling wines. "It generally has a lighter body and more refreshing and zesty acidity, making it bright and crisp," he says, adding that this makes it the perfect sip on a sunny afternoon or balmy summer night.
Cava
Next up, is the Spanish sparkling wine that can be described as vibrant and enchanting. Eva Plazas, winemaker at Vilarnau, shares that Cava has something big in common with one of its bubbly rivals. "With Champagne, the production method is the same as for Cava: the second fermentation in the bottle and subsequent aging with the lees; on the other hand, prosecco is a second fermentation in the tank and there is no yeast (lees) in the bottle," she says. The similarities between Cava and Champagne end there.
Plazas continues noting that the "very versatile and gastronomic sparkling wine" can use nine grape varieties. "Five white: macabeu, xarel.lo, parellada, chardonnay, and subirat parent (Malvasia) and four red: pinot noir, garnacha, monastrell, and trepat," she lists.
Plazas recommends enjoying young cava (fresh and fruity) on its own while, a more complex reserva cava is "ideal to accompany a meal from start to finish or a gran reserva cava with tertiary aromas (from aging) that are more preset and very gastronomic."
Sparkling Wine
The name sparkling wine is used to encompass all other types of effervescent wine made from California to South Africa to Australia. Because of the varying climates and soils in the regions, these wines are produced in, they have some of the most unique flavor profiles among sparkling wines and shouldn't be counted out. Todd Graff, general manager and winemaker at Frank Family Vineyards echoes this sentiment.
"While Champagne, cava, and prosecco may have dominated the sparkling wine industry at one point, California sparkling is more complex and elegant than ever," he says. "Our Napa Valley sparkling wines are made from cool-climate chardonnay and pinot noir from our estate Lewis Vineyard in Carneros. In terms of production, all Frank Family sparkling wines undergo the labor-intensive méthode champenoise style, spending a minimum of three years on the lees, which yields the rich complexity and refined balance for which they have become known."
South Africa has also entered the sparkling wine chat with Cap Classique. The less than 50-year-old sparkling wine, whose name is an homage to South Africa's Cape Winelands (their wine country), also utilizes Méthode Traditionnelle for production. Any varietal of local grape can be used to make this fizzy delight, but pinot noir and chardonnay are the most popular, with others like Chenin Blanc sometimes making an appearance. Cap Clissique has the familiar buttery brioche flavor of Champagne and depending on how long it's aged, can provide notes of stone fruit and citrus flavors.
Down under is home to many sparkling wine regions like Tasmania, Grampians, Yara Valley, Adelaide Hills, and King Valley. Particularly popular among Australian sparkling wine is the style Cuveé Brut, which translates to "dry blend." This is Australia's local answer to Champagne, using the traditional production method. Also unique to Australia is Sparkling Shiraz. A bubbly version of the infamous Aussie red wine that is a little bit sweet and boasts flavors of intense chocolate, spice, liquorice, berries, and plum. This Shiraz (Syrah)-based bottle of bubbly is perfect to please guests at a summer barbeque.
Sparkling Wines Rules Of Thumb
For those feeling overwhelmed by the array of choices both between and within the types of sparkling wines, Cordell has a solution for finding the right bottle that works across the board. Judge a sparkling wine by its label. "A Champagne label will give you the information you need in order to make an educated decision," she says. "Certainly, pay attention to sweetness levels that are listed (brut zero, extra brut, brut, extra dry, sec, demi-sec, doux)," she adds.
Graff offers more insight on what to look for on any sparkling wine label, particularly those that want a little more luxury out of their bottle of bubbly. "Pay attention to the production methods used. Traditional techniques such as 'méthode Champenoise' or 'méthode traditionnelle' involve a secondary fermentation in the bottle, resulting in higher quality and a more complex flavor profile," he says. "This serves as a reliable indicator of a well-crafted sparkling wine."
Get ready to pop a cork and grab a flute with this expert-curated lineup of bubbly bliss, ahead.