50 Smart, Cheap Ways To Upgrade Your Home You'll Wish You Knew About Sooner
And you'll wonder how you ever did without.
Amazon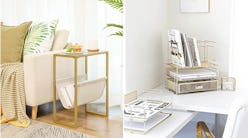 We may receive a portion of sales if you purchase a product through a link in this article.
The term "home upgrade" may conjure images of electricians, plumbers, and contractors holding court in your home for months at a time, but now, in the golden age of DIY projects, that's simply not the case — especially not with with Amazon leading the charge. The online retailer has become a destination for amateurs and professionals alike seeking low-cost, high-impact solutions for common problems and projects around the home, whether that's smart devices that streamline your daily routines, or simply great-looking furniture at unreal prices.
From marble contact paper that cheats a full kitchen reno to a set of lightbulbs you can control with your voice, scroll on to discover 50 smart, cheap ways to upgrade your home you'll wish you knew about sooner — and wonder how you ever did without.
This article was originally published on