The 6 Lessons We've Learned From Blake Lively And Ryan Reynolds' Perfect Relationship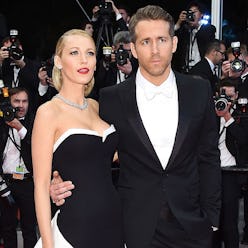 Nearly six years and two daughters later, Blake Lively and Ryan Reynolds have one of the most enviable relationships in Hollywood. They constantly swoon about each other's adorable habits, and (along with James and Ines) make for the living, breathing version of #familygoals. With a friendship that blossomed into marriage, theirs is the ultimate love story. Here, a few takeaways we learned throughout their romance—and some we can also apply to our own.
The two met on the set of the Green Lantern, but they were linked to other people at the time (Ryan was married to Scarlett Johansson and Blake was seeing Gossip Girl co-star Penn Badgley). It wasn't until a year later—and their mutual breakups—that they starting dating. "It was weird at first but we were buddies for a long time," Ryan said in an interview with Entertainment Weekly. "I think it's the best way to have a relationship is to start as friends."
Blake and Ryan are famously private about their family life. It took them months to reveal the names of their daughters, James and Ines. We also rarely hear about their daily goings-on, which could mean that they focus less on what they want others to see and more on the workings of their relationship. (And the kids!)
Even before they were officially a couple, Blake and Ryan would gush about one another's talents. "Oh, she's quite a baker," Ryan once told E! News. "There's nothing she can't cook, that's sort of the problem." On the other hand, Blake had a few words to say about her husband's work on the now-defunct Preserve website. "He's a beautiful writer—he's written a lot of stuff for us," she said. "And he's got a great barometer and he knows me, so he will tell me if it's not as good as it can be."
Simply put, they can take a serious situation and look at it in a lighthearted manner. "My wife is the real, I mean she is a mercenary," Ryan revealed on Conan about the moment Blake gave birth to daughter James. "At one point in the middle of the delivery, the doctor's cell phone went off and she said, 'Oh, no. Go ahead, take a personal call. Feel free.' She was cracking jokes in the delivery room."
When coming up with the name for their first daughter, Ryan had one drumroll-worthy suggestion: Excalibur Anaconda Reynolds. Now we know she goes by James, which happened to be the middleground between the couple. "In the spectrum of weird celebrity baby names, I feel like we're not really breaking any new ground here," he said. "I mean, I didn't call her Summer Squash Meadowlark or something."
Blake and Ryan are not only supportive of one another's careers, but also give each other occasional words of encouragement as well as motivation to push boundaries—despite their being one of Hollywood's most successful duos. "I love that he challenges me," Blake told E! News. "He's someone that I trust when he challenges me." Like, can they be any more perfect?