The Unexpected Secret To Blake Lively And Ryan Reynolds' Perfect Relationship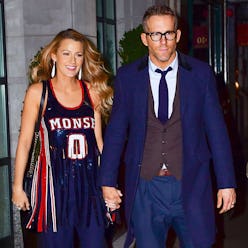 One of Hollywood's most idyllic duos, Blake Lively and Ryan Reynolds are the textbook definition of #CoupleGoals—with five years of marriage and two daughters as proof of their lasting romance. So it's understandable we'd take cues from their love, particularly when the 30-year-old actress and entrepreneur is willing to share the secret to their strong bond. As it turns out, the saying "opposites attract" isn't always the case (at least not for Blake). During her appearance at Good Morning America, she revealed her marriage works because her husband acknowledges the nature of her career—well, because he's an actor himself.
"It's nice to have somebody who understands what you're doing, especially because our job is so weird," she said, referencing her role's obligations in All I See Is You. "We have to be married to other people—and it's all so strange. It's never normal, even when we're both doing it." She added that this is especially true when filming scenes that not only require nudity (a self-imposed rule she broke to play this character) but also lead to intimacy. "It's helpful to know that when you're in a relationship with someone [else], that's not what's actually happening," she said. No wonder Hollywood dates one another.
Watch the rest of her interview here.