Rachel Zoe's Guide To Effortless Holiday Decor In 3 Easy Steps
The stylist shares how she transforms her home into a winter wonderland.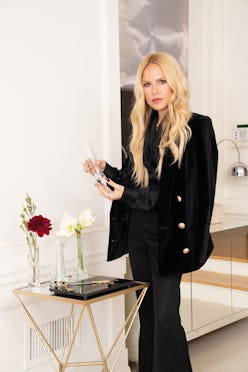 Whether your home is channeling that seasonal splendor through winter whites, tinsel, or the addition of cozy textures, holiday decor calls for adding all things merry and bright to your space. "It's such a glamorous time, and I truly love making my home an extension of the season," says celebrity stylist and founder of TZR, Rachel Zoe. "My favorite part is the lifelong memories I create with my boys and [husband] Rodger. Skyler and Kaius love to help and get very involved." For Zoe, what matters most when decorating her home is making sure it feels warm and inviting for friends and family to gather. This year, Macy's is helping her do just that.
"For me, nothing is chicer than winter whites, and I'll add on cozy extras like faux-fur pillows and knit throw blankets," she says. Then, she'll elevate her dining area with metallic touches, seen in show-stopping golden candle holders and flatware. To finish, Zoe loves to feature sparkling lights on the mantel to make her space more inviting.
1. Set The Mood
Before guests even enter her home, Zoe likes to make them feel welcome by adding special touches to the entryway. A row of lanterns will guide their way, while festive, illuminated garlands lend a holiday feel to any bannister or mantle. And if you really want to amp it up, a glamorous table in white and gold (perhaps housing a bowl of holiday treats) will tie in nicely to the rest of your decor.
2. Make Your Living Room Cozy And Inviting
Soft throw blankets and fuzzy rugs in shades of cream and white are not only stylish, but make a space feel warm and welcoming. Zoe is also a fan of adding a fragrant candle to her space, like Tom Ford's vanilla and tobacco scented option. It'll make the room smell incredible, plus, the warm glow will add even more ambiance.
3. Add Glamorous Touches To Your Dining Room
Whether the dining room table is set with gold candlestick holders or individual bud vases (each one featuring a single red rose, of course), Zoe loves adding in small, impressive details for maximum impact. And you don't have to sacrifice function, either: This cheese plate with gold accents looks spectacular with or without the brie.