Seriously Stylish Sketches By Jamie Lee Reardin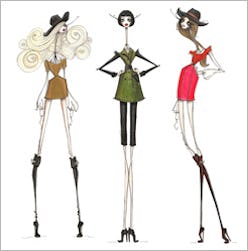 Our obsession with uber-talented artist Jamie Lee Reardin began when we discovered a glamorous sketch she drew of Rachel. Since then, our team has become diehard followers of Jamie's blog and Instagram, which showcase her latest designs and artful collaborations.
With a background in fashion illustration, Reardin fittingly seeks inspiration in innovative designers, models, muses and couture collections. Recently, we reached out to the coveted creative force asking her to devise drawings inspired by the Rachel Zoe Pre-Fall 2013 Collection. She willingly accepted and blew us away with a fashionable handful of her own, ultra-sleek interpretations! Scope out Reardin's incredible illustrations, accompanied by featured pieces from Rachel's collection for reference (they also happen to be shoppable). Enjoy!
Scarlet Sheath Dress, $495
Freda Leather & Twill Jacket, $450 Anya Motorcycle Pants, $295 Joni 3 Buckle Boots, $555
Adriana Mermaid Maxi Dress, $395
Luella Leather Dress, $750 Capri Silk Blouse, $235
Double Breasted Trench Coat, $695 Capri Silk Blouse, $235
Jennifer Metallic Lace Blouse, $275 Capri Silk Blouse, $235