Instagram's Favorite Home Brand Just Launched A Very Chic Ovenware Collection
We only recommend products we love and that we think you will, too. We may receive a portion of sales from products purchased from this article, which was written by our Branded team.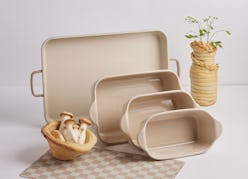 Over the past few years, I've been on a journey to slowly upgrade my decor and home goods. While my affordable essentials from early adulthood served me well, they haven't always been of the highest quality (or the best style), and in no place is that more obvious than my kitchen.
As an avid home cook, my current stock of aluminum baking sheets, hand-me-down casserole dishes, and a clearance-rack loaf pan have all seen better days. So when I noticed internet-favorite home brand Our Place released a new ovenware collection, I knew it was worth taking a look.
The brand itself has been on my radar for a while, with their popular Always Pan (which was smartly designed to replace eight separate pieces of cookware) dominating my social feeds. Although I never tried the pan for myself, I've seen enough positive reviews to believe their new ovenware collection should be just as good — and I'm very pleased to report that I was right.
When I opened my new ovenware at home, the first thing that struck me was the beautiful sage color of the set. It's the perfect shade of green for kitchenware that nods to the pistachio-hued kitchens of the mid-century without feeling kitsch. All five color options are earthy, natural, and not overly saturated. No matter which shade you select for your set, you can trust that your carefully prepared food will still be the star of the table — just with an eye-catching complimentary color to help it pop.
The five-piece set comes with one cast aluminum five-quart oven pan, three ceramic baking dishes of varying sizes, and one reusable silicone oven mat that can be used as a non-stick, oven-safe surface on your oven pan. The pieces easily stack together for simple storage, making it ideal for those of us with limited cabinet space.
On the surface, it's easy to assume that this set is a standard collection of home cook must-haves — but like all good things, the beauty is in the details. The quick-heating oven pan, for example, can obviously be used for baking cookies, roasting veggies, or as a beautiful serving plate for either. However, it can also be used as a griddle on gas and electric stoves to prepare even more of your favorites like delicious naan or crispy bacon.
The trio of stoneware baking dishes are also perfectly suited for their intended uses (like preparing casseroles or most standard bread recipes), and also make for beautiful serveware for your next dinner party's side dishes. Plus, the chip-resistant stoneware is finished with a ceramic interior glaze to make it a naturally nonstick surface.
Last but certainly not least is the silicone oven mat, which has emerged as the latest game-changing addition to my kitchen. It's billed on their website as a nontoxic, sustainable parchment paper alternative, and I became a quick convert when I used it with my oven pan to make a batch of oatmeal cookies. It fit perfectly within the oven pan without fuss, was a breeze to clean, and easily got the job done.
For those who are already dedicated fans of Our Place, the ovenware set makes for a worthy addition to your collection. But for those who are new to the brand like myself, and even for those who are simply on the market for upgraded, high-quality ovenware that doesn't sacrifice on style, then look no further than this versatile five-piece set.