Of The Chic, Trendy Home Products Most Added To Amazon Wish Lists, These Are Worth The Hype
Trust the shoppers on this one.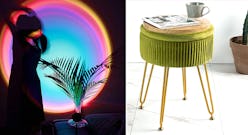 We may receive a portion of sales if you purchase a product through a link in this article.
There are a lot of highly rated products on Amazon, but as any experienced online shopper will tell you, not all of them turn out to be as great as they sound. To help you cut through the noise and stock your home with the best and most innovative products Amazon has to offer, our (very discerning) editors put together this list of the hottest home products your fellow shoppers are lusting over right now. Trust us: Of the chic, trendy home products most added to Amazon wish lists, these 40 are worth the hype.
So, what types of home products are trending right now? In addition to decorative accents that make a statement — think: James Turrell-inspired lights, sculptural ceramic vases, and that mushroom lamp you've been seeing everywhere — the products that are the most highly sought after by Amazon shoppers tend to be ones that merge style with function (so anything with hidden storage or a clever organizational angle, for example). With that in mind, this list is rife with chic and trendy products that not only look great, but will make your home run more efficiently, too.
Ready to discover some of the most in-demand home products on Amazon right now? Then just keep scrolling.