In The Wine Industry, Motherhood Takes On New Meaning
These women are breaking the mold in a male-dominated business.
Courtesy of Tahiirah Habibi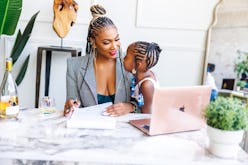 A trite comment like 'I don't know how she does it!' when referring to a working mom can elicit an eye roll, but after one recent weekend — nay, one day — of looking after my niece and nephew while also being on deadline for a wine article, it was the only question that flooded my mind. I'd get into a rhythm with my intro, but my nephew would command I watch him tricycle in the driveway. I'd finally return to that paragraph, then my infant niece would climb over my laptop, simultaneously drooling on the keyboard. My appreciation and astonishment for the working parents in my life grew tenfold after that playdate (and, no, I didn't file the story on time).
Of course, regardless of gender or profession, raising a child is demanding. But when you're a mother in a male-dominant business like wine, the role of parent can take on unique challenges. The beverage industry commonly skews male, we all know this (a 2022 report showed that just 17.8 percent of winemakers in the US are women, and, of the 168 professionals who have earned the title of Master Sommelier, only 25 are female, just to give a couple of quick examples). Because of this, it's all but expected that the system isn't built to address the needs of motherhood. But if you've been paying attention, things are shifting and women — many of whom are also mothers — are reshaping the mold. Ahead, TZR talks with sommeliers, winemakers, CEOs, entrepreneurs, and more on the complexities of holding two positions at the same time: wine professional and mother.
Choosing Motherhood With A Career In Wine
It's a bit of an understatement, but motherhood is bound to change your career. For Drink RAMONA Founder and CEO Jordan Salcito (a sommelier-turned-entrepreneur who created her company while pregnant), the shifts weren't exactly what she anticipated. "Becoming a mother changed me in ways I didn't expect, and it didn't change me in ways that I did," she shares, adding that she previously subscribed to the narrative that a professional life would halt once becoming a parent. "What I didn't expect was the fact that pregnancy is an inherently creative time. That, combined with the fact that parenthood is also the universal leap into the great unknown, was a time when I found my priorities really crystallized and I was able to discern clearly, with the quiet space of new motherhood, what I wanted to do with my life."
For Andréa McBride John (co-founder and CEO of McBride Wine Sisters Wine Company), it took 12 to 15 months after her daughter was born to get into a flow. "I just felt like I was failing in all aspects of my life; I really prided myself before at doing a great job when it came to being a sister, wife, mum, family member, friend, business woman," she shares. But ultimately, things came into focus. "I realized in this chapter of my life, I could only fit in so many things and I had to make good with that and give myself some grace until I figured out what I wanted to prioritize."
The Unique Challenges That Arise
Pauline Lhote, head winemaker at ChandonCourtesy of Pauline Lhote
Of course, the concept of limited time isn't unique to the wine profession, but there's something inherently demanding about it — from hospitality all the way to the vineyard — that makes parenting feel daunting. "Restaurant work isn't for the faint of heart but it is incredibly rewarding," says Victoria James, partner and director of beverage for Gracious Hospitality Management (COTE NYC & Miami and COTE Wine Club) who opened their Miami location in her first trimester. "I think I was the only sober person in town," she jokes, adding that there was often confusion from guests surrounding why she was working so close to going into labor. "There was this one night where I was serving wine to a couple with my huge pregnant belly and I was getting super weird vibes from the guy at the table. I became so self-conscious and grew quiet for their whole dinner," she says. "At the end, the woman pulled me aside and said 'thank you for doing what you do, I worked during all of my pregnancies and I love seeing women doing what they love and also being mothers.'" The show of support struck a chord with James. "I had been so worried about what people would think of me working the floor while being heavily pregnant and it had never occurred to me that my position might resonate with others."
And that's just one anecdote, there are numerous examples of working in wine while pregnant or as a new mom that present industry-unique obstacles. "Harvest in winemaking is a very demanding period where one works long hours across three months," says Mahalia Kotjane, the assistant winemaker at Lievland Vineyards in Stellenbosch, South Africa. "There's little time to spend with family and it's even worse when young ones are ill, the guilt just creeps in." Or there's the scenario that most new moms can relate to — breastfeeding on the job. "I nursed my daughter for a little over two years and would have to nurse at wine events; there is always a weird energy around it," sommelier and The Hue Society founder Tahiirah Habibi says.
Why 'Having It All' Isn't the End Game
Despite the nuanced challenges mothers in the wine industry might face, there's a common thread: The idea of 'having it all' doesn't compute and setting boundaries is more realistic. "As a mother in wine, one of the important lessons I have learned is how to say no," Chandon head winemaker Pauline Lhote says. "There are only so many hours in the day, which means sometimes I have to be selective about what I commit to and say no to things that don't contribute to being an exceptional mother or exceptional winemaker."
In a broader sense of parents and their careers, the concept of balance can be toxic. "The notion of a true, and consistent work-life balance puts another very difficult and mostly unattainable standard on women who are navigating an ever-changing home and professional life," McBride Sisters Wine Company co-founder and president Robin McBride says. "Our businesses go through different phases as do our families and personal relationships and we have to work to be present and our best selves as things evolve. Not everything gets the same level of attention at the exact same time, and it doesn't make us bad moms, or partners, or businesswomen."
Robin McBride, co-founder and president and Andréa McBride John, co-founder and CEO of McBride Wine Sisters Wine CompanyCourtesy of McBride Wine Sisters Wine Company
Listening to your body and being OK with accepting help is also something that goes a long way in the wine world, especially for moms. "This industry isn't gentle — it's 12 to 14 hour days, and up to 10 of those are on your feet. We're taught to power through, to ignore aches and pains, to eat poorly and inconsistently. I think I've been dehydrated since 2008," Lauren Friel says, sommelier and owner of Rebel Rebel, Dear Annie and Wild Child, adding that asking for help is often viewed as a sign of weakness. "Prioritizing my physical wellbeing doesn't come naturally to me, and I've really had to put effort into changing that, taking breaks to eat, knowing when to sit down or ask for help. It isn't about me anymore — I have to do it for this little person."
Navigating a Male-Dominated Industry
Cristina Mariani-May, president and CEO of Banfi VintnersCourtesy of Banfi Vintners
Alex Wight, founder of Crown JewelCourtesy of Courtney Theberge of Courtney Elizabeth Media
Unfortunately, fathers in wine rarely face the same challenges that mothers do. Even before there's a baby, prejudice often comes into play. "Interestingly, I felt more stigma prior to having a child," shares Kelli White, director of education at The Wine Center at Meadowood in Napa Valley. "Being a woman of childbearing age in the wine industry was fascinating because so many bosses and/or hiring agents continually tried to casually inquire as to my family plans. You could tell they saw my presumed fertility as a threat," White says. "Now that I'm in my 40s the 'threat' of a sudden status change seems to be off the table."
Being viewed as both a mother and an accomplished wine professional isn't the result of 'having it all', Wölffer Estate Vineyard Chief Brand Officer and Co-owner Joey Wölffer says, it's the effort. "We work for it all. We sacrifice for it all and often we have to struggle hard to attain that," she says. "I have been through so much depression through the baby years. I am definitely on the other side, but it's something most men cannot understand."
And while there are plenty of anecdotes about misogyny in the wine community, it's worth noting that there has been progress in this regard. "Working in a male industry, the challenges were not being taken seriously when I was a young woman," ays Cristina Mariani-May, President and CEO of Banfi Vintners. "Our industry, like all, has changed and is more diverse and equitable. I am proud of what the future wine industry will be when my daughter becomes an adult. It's come a long way." For Sara Walsh, the co-founder of Walsh Family Wine and regional sales manager for Winebow, progress would require reframing perspective. "I would hope we're not too far from being past the point of separating the experience of a working mom versus a working dad," she says. "Certainly there are intrinsic differences between being a mother and being a father, but there doesn't need to be differences between the fact that either one is working."
With Motherhood, Comes A Better Philosophy For Work
In spite of competing priorities between motherhood and working in wine, there are many ways the two can complement each other. "Being a mom has made me better with wine. Kids — like wine — require time, patience, a balance of nature and sustainability, and aging," Mariani-May says. Liz Martinez, general manager and sommelier at The Apparatus Room, also finds similarities between the two roles, citing motherhood as helping her to approach wine in a different way. "My hospitality style mimics that of being a mom. Humble, genuine, and anticipatory," she says.
Motherhood also helps shine a light on the big picture stuff that matters most. "My daughter Simone has given me the blessing of perspective and a deep sense of empathy," James says. "She has helped me realize what is important and what isn't and I've become infinitely better at my job. She's given me the blessing of powerful empathy — whenever I see another human I think 'wow, this is someone's daughter or son,' and it has completely changed the way I interact with the world."
Kids & Wine, An Unlikely Pairing
Liz Martinez, general manager and sommelier at The Apparatus RoomCourtesy of Jaimie Skriba Photography
Tahiirah Habibi, sommelier and founder of The Hue SocietyCourtesy of Tahiirah Habibi
Beyond all of that, raising children around wine offers a unique lens for them to view the world — one that's culturally diverse and that celebrates human connection. "There's been a remarkable progression and development for them as diners and for me as a parent when we are out together," Crown Jewel founder Alexandra Wight says, referencing a recent family meal out at Pierre's in Islamorada, Florida. "They've grown as guests. They showed an understanding of what's expected of them and engaged our server with both curiosity and respect. They were happy to be out." Exposing kids to the world of wine can also transform the parent's behavior. "I think I became more patient and not as quick to judge. I appreciate and enjoy young people more now," Dalla Valle Vineyards founder and proprietor Naoko Dalla Valle says.
Bringing children out into the vineyard is another opportunity unique to wine professionals, like Tesselaarsdal owner Berene Sauls was able to do in Hemel-en-Aarde, South Africa. "My greatest memory was taking my two sons Darren and Calem to our property the day after I bought it and showed them where our future vineyards will be," she says. "The second was when we planted the first vines in September of 2022 — my whole family was involved."
It also gives parents a playful medium to interact with their kids. "On weekends when my husband and I have a glass of wine, my kids will always cheer us with their glass or sippy cup — it makes me laugh every time," Lhote says. And while young parents have to wait until their children are old enough to actually drink wine, it doesn't stop them from participating in the culture. "My daughter learned how to swirl when she was two. She loves holding wine glasses and she loves swirling them, it's really cute," Habibi says. "My favorite thing is watching how comfortable she is in my work settings, because I didn't grow up with wine so being able to make that such a natural organic thing for her is incredible to witness."