The Milan Guide To The City's Unique, Hidden Gems
Food, shopping, art, and more.
Andrea Pistolesi/Stone/Getty Images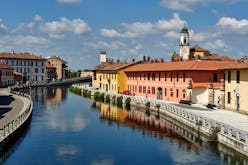 An epicenter of fashion, architecture, and culture, Milan is quite the metropolitan epicenter, attracting roughly 11 million visitors annually. And while attractions like the Gothic Duomo di Milano cathedral and the Santa Maria delle Grazie convent, which houses Leonardo da Vinci's mural "The Last Supper," and the luxury shopping and fine dining certainly solidify the city's status as a bucket list destination, they are not all it has to offer.
"By venturing off the beaten path and embracing under-the-radar hot spots and experiences, you'll unlock a side of the city that most tourists never get to see," says chef and travel blogger Cherie Gonzalez. "From charming neighborhoods to culinary delights and breathtaking viewpoints, Milan is ready to reveal its best-kept secrets to those willing to explore beyond the obvious."
If you, like everyone else, is aiming to pay a visit to this bustling Italian metropolis, try throwing your city guides and books out the window, and shoot for a more authentic experience. Rent a car and explore the outskirts of the city and nearby towns that aren't as congested with tourists. Wander Milan's smaller boroughs and take in the beautiful street art, small cafés, eclectic boutiques, and neighborhood art galleries.
Is seeing the Duomo and shopping the designer boutiques a good way to spend your time? Sure. But to truly take in the essence of a city or destination, you have to get away from the crowds. Ahead, travel agents and experts offer their insights on the best way to experience Milan.
Hit The Roof
You can't go wrong with a view from the top and Milan is filled with rooftop bars and restaurants that allow you to people-watch and take in the sites from the above. Although one of the trendier spots in the city, an early evening drink or dinner at Terraza Duomo 21 will not disappoint. The third-floor hot spot gives you a front-row seat to all the action in Duomo Square, while you sip on classic Italian cocktails (this is the perfect place for your cliché Aperol spritz moment) and feast on indulgent local fare like tagliolini pasta with porcini mushrooms and fine black truffle or saffron risotto. At night, the restaurant comes alive with a live DJ.
Just across the way, a few minutes walk from the Duomo, The Dome is another great option. "This magical rooftop bar is certainly more fancy than other bars but is nonetheless one of the coolest places to sip on an aperitivo in Milan while enjoying a stunning view of the city," says Louisa Loring, founder of food platform EatingAroundItaly.com. "The Dome is less affordable than a [neighborhood] like Brera, but you are paying a premium for the atmosphere, view, and experience. Indulge and enjoy. If not in Italy, then where?"
For a cozier rooftop ambiance, try the Sky Terrace bar on top of the Hotel Milano Scala, which serves Mediterranean-inspired dishes and "biological" wines. While not especially large, this spot is ideal for a romantic sunset dinner or cocktail hour for two.
If you want to get out of the busy city center, head north to the Garibaldi district and try the luxe Ceresio 7, which features two rooftop swimming pools, cabanas for lounging, craft cocktails, and a 360-degree view of Milan's skyline.
Get Artsy
While certainly worth a visit, if you limit your Milanese art and culture experience to the aforementioned Last Supper or Andrea Mantegna's "Lamentations Over The Dead Christ" in the Pinacoteca di Brera, you're doing yourself a disservice. (Although it must be noted that the Pinacoteca's location in Brera is a known "artsy" neighborhood with lots to take in — you'll see it mentioned throughout this guide.) Try getting lost in lesser-known pockets of the city, where you'll find smaller galleries and street vendors featuring works of local artists.
"For a unique cultural experience, head over to the up-and-coming neighborhood of Isola, easily reachable by Milan's reliable metro system," says James Thai, founder of travel agency Exotic Voyages. "Known for its vibrant street art and trendy microbreweries, Isola offers an immersive blend of modern and traditional Milanese experiences. I recommend visiting the Bosco Verticale, a pair of residential towers that doubles as a 'vertical forest,' offering stunning city views. You can also visit the Villa Necchi Campiglio at the evening. It's a beautiful, lesser-known Art Deco mansion that hosts intimate concerts and exhibitions, allowing you to enjoy arts and culture in a less crowded setting."
Gonzalez, and many of our other travel sources, also note the Navigli district as an art-filled hidden gem. "Nestled alongside picturesque canals, this bohemian neighborhood boasts a vibrant atmosphere, dotted with charming cafes, trendy boutiques, and lively bars," she says. "Strolling along the canal promenade, you'll encounter a fusion of artistic expression, with street art adorning the walls and local artisans showcasing their crafts."
Shopping & Local Attractions
In addition to eating, drinking, and taking in the local art scene, Milan has plenty of other extracurriculars to keep you busy. For starters, there's of course the shopping. While Via Monte Napoleone, Via Della Spiga, and Corso Buenos Aires are all high-traffic areas known for their upscale boutiques and designer shops, Christian Miller, founder of travel platform Discover Italy, recommends neighborhoods like Porta Genova, which houses some of Milan's oldest markets, including flea market Fiera di Sinigaglia. "This spot sells everything from clothes to antiques," he says. "It's a great place to find unique and affordable items."
For jewelry and premium antique or vintage shopping, Brera is perfect, thanks to stores like Urzì Vintage Selection and Gioielleria Milano Mercanti d'Oro dal 1910.
While you're in the neighborhood, take a walk through one of the area's stunning gardens and parks. "Escape the city crowds and discover the Orto Botanico di Brera, a botanical garden located in the Brera district," says Eoin Hamilton, co-founder of world hiking platform HiiKER. "This peaceful oasis offers a variety of plants and trees, as well as beautiful pathways for a tranquil walk. It's an ideal spot to unwind and connect with nature."
Another great place for a stroll is Parco delle Cave, located in the southern outskirts of Milan. "[This] is a reclaimed quarry area that has been transformed into a green space," says Hamilton. "It offers walking and cycling paths, small lakes, and picnic areas. It's a peaceful retreat where you can relax amidst nature without venturing too far from the city center."
Eat & Drink Like A Local
If the rooftop vibe isn't your thing, there are (obviously) plenty of ground-level eateries to indulge in Milanese fare. Brera (again) is an ideal place to start. The area's Piazza del Carmine is a favorite of Loring. "You can sit under one of the large umbrellas and indulge in great people watching before dinner (typically Italians sit down for aperitivo between 6:00 - 8:30 p.m.)," she says. "Brera is easy going and casual. Here you won't be bogged down by tourist prices or poorly made cocktails." While in the "small but idyllic square," pick up some pasta to go from nearby eatery Sicilian Brera Wine & Food or sit down at the ultra chic Il Carminio (try the baked chicken).
Hamilton favors the Colonne di San Lorenzo, an ancient Roman square near the Basilica of San Lorenzo. "This area is popular among locals, especially in the evenings," he explains. "You can enjoy a drink at one of the many outdoor bars, soak in the lively ambiance, and perhaps catch a street performance." While here, grab a glass of wine at Cantina della Vetra or homemade ravioli at La Dogana del Buongusto.
For a food market experience Mercato Metropolitano is the place to be. A food market that focuses on sustainability and local produce, "it offers a wide range of food stalls, restaurants, and bars where you can indulge in delicious and authentic Italian cuisine," says Hamilton. "It's a great place to savor local flavors away from touristy areas."
Push The City Limits
While it may sound counterproductive, achieving a more authentic experience may require you to get out of town, meaning exploring Milan's outlying towns. To do this, you're probably gonna need some chic wheels. Stay on theme and blend in with the locals by renting a reliable, luxe vehicle from a locally-based brand. Alfa Romeo, which is headquartered in Milan, is a great option. For easy travel and exploration, try the company's new hybrid, the Tonale, which comes with a number of bells and whistles that a tourist (who may not be familiar with Italy's driving culture and traffic signs), will appreciate. Think traffic sign recognition capability (TSR), an interactive navigation system, and automatic emergency braking with pedestrian detection.
While we're on the topic, Alfa Romeo's museum in nearby Arese, which chronicles the brand's iconic history in Milan, dating back to 1910, makes for a great visit and is only a 35 minute drive out of Milan. Sip on some Italian espresso from the on-site café while you learn about the company's rich and varied journey in high-performance vehicles and race cars and see some of its most legendary models.
If you want to venture out a bit further, Hamilton recommends an hour-long drive north of Milan to Monte Barro, a small mountain range with hiking trails suitable for different skill levels. "It offers panoramic views of Lake Como and the surrounding countryside," he says. "You can hike to the summit, visit the Barro Fortress, and explore the diverse flora and fauna."
And for those game for an even longer road trip, try cruising through Turin. "The former first capital of Italy, this city boasts Baroque architecture, elegant shopping streets, a high concentration of Michelin-star restaurants, and the largest food market in Europe," says Marco Scaglione, owner of tour company Meet Piemonte Tour Operator, based in Piedmont, Italy. "With the second-largest Egyptian Museum in the world and historic cafés serving traditional hot chocolate mixed with espresso coffee, Turin offers something for all ages."