Celebrity Caterer Mary Giuliani's New Book Delivers The Hilarious Truth About Entertaining
Mary Giuliani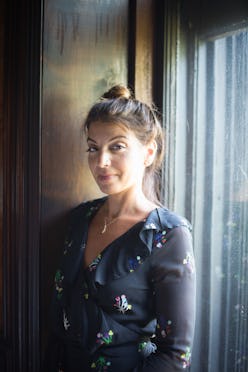 By the time Mary Giuliani got to the set of Billions, she had built a career with Mary Giuliani Catering & Events, or MGCE, one of New York's most beloved caterers, counting among her clients Vogue, HBO, Moda Operandi, Nordstrom, Jimmy Choo, Net-a-Porter, and many others. Giuliani joined the show's ranks of superstar culinary cameos, which in the past had also included the likes of Alex Guarnaschelli (executive chef at Butter and of Food Network fame) and David Chang (of the Momofuku empire). But as actors and cameras swirled around her, what they perhaps didn't see were all the years she had been working toward being among them.
As she recounts in her new memoir How to Lose Friends and Influence No One, Giuliani had spent the early part of her time in New York chasing work as an actor — submitting herself for the role of Meadow on The Sopranos without the knowledge of the casting agency where she worked, dancing in the background of Whit Stillman's The Last Days of Disco, and playing a sex worker in the background of a made-for-TV mafia movie. She had originally turned to catering, she said, as a way to make ends meet while looking for work. But she eventually built a thriving business, one that put her on television in its own culinary way, with appearances on everything from Good Morning America to Rachael Ray and so many more. She had always wanted to be a storyteller, whether as a writer or an actor, and with catering she found she got to tell stories with food. "I'm an accidental caterer," she says. "I didn't really know my place. And then when I decided that this was the place that I wanted to be, and I wanted to devote my career to this, I realized that I could actually be a food and beverage storyteller."
Giuliani retains her commitment with her latest book, a follow-up to her 2019 memoir Tiny Hot Dogs. This latest book arises from the ashes of the pandemic when, as Giuliani says, "we all got sent to our rooms." Incidentally, her acting gig on Billions was also her last one before the lockdown began. The effects of this period were devastating for everyone, a professional events and catering company like Giuliani's by no means excluded. She wanted to return from the pandemic with a fresh point of view on her work, her life, and her way of telling stories about them, to reemerge with renewed appreciation, truth, and an eye toward the future. "Because, after a while, like anything, you're like, agh, another crab cake," she laughs. "And then once it's taken away from you, and you don't know when it's gonna come back…I just said, I want to do it again, but I want to do better and I want to do it with more appreciation." It was time to go deeper into her own stories and into her life.
In How to Lose Friends and Influence No One, Giuliani's bubbly personality and introspection intertwine as she tells personal, intimate stories about her childhood, her career, her marriage, her brushes with fame, and her health. We are with her on the diving board as she spends an afternoon at a swimming pool with nuns from her Catholic elementary school; on a sex retreat at Kripalu; revisiting the marriage of her grandmother, a Hamptons hotelier, through the eyes of her own marriage and business. She also chronicles running into Michael Imperoli after years of knowing him first as a Chelsea bartender; her struggles with endometriosis; and the way the life we hope for sometimes slips through our grasp only to create the promise of new dreams, embodied by the tantalizing possibility of a dinner with Fran Leibowitz. "I dedicate the book to obviously my family, but I also say I dedicate it to the reader, [to] please remember that dreams don't have expiration dates," Giuliani says.
Giuliani and MGCE power on in a world of events that's been changed by the pandemic, certainly, but not dampened. "I think [the pandemic] taught us that we could do more with less. And I don't necessarily think that was a bad thing," Giuliani says. And while she says luxury art, fashion, and entertainment events are still of course high end, simplicity has become key. This also extends into the home. We shouldn't be bending over backward trying to impress people, but rather just share space with people we love, especially since we spent so long without doing that. "I always say like, home cooking is not a reality show…at the end of the night, [no one] is going to give you a prize because your mashed potato peaks were airy," she laughs. "What they will remember is that you actually sat with them at the table, and you actually shared this meal."
The lifestyle expert expands on this, suggesting that, when hosting a gathering, to serve the things that bring you comfort, joy, and maybe have a story associated to them. "Be aware of [things like], how are you going to make it? How are you going to serve so that you can actually spend time with the people that you're inviting to your home?" she adds. "Yes, it's nice to make things pretty, but what they're going to remember is how they felt being with you."