Where To Visit In Jaipur, India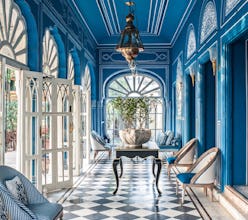 Visiting India can be, in a word, overwhelming, which is why we're all ears when someone offers us recommendations. Enter Christina Mercando, founder of the genius tech gadget Ringly, who visits the Indian city of Jaipur on a regular basis. Here, her recommendations for where to stay and what to see while you're there.
What to eat/drink:
Grab a bite to eat or enjoy a cocktail at Palladio—a must-see for anyone traveling to Jaipur. The interior is decorated with a beautiful blue and white motif and has a sophisticated and airy vibe. The food is also delicious, particularly if you're looking for a lighter meal.
Browse Eclectic Jewelry
For serious jewelry inspiration, head over to the Gem Palace to admire the dazzling array of gems and jewels both antique and modern.
Cinnamon at the Jai Mahal Palace Hotel
For a taste of traditional and modern Indian cooking head over to Cinnamon at the Jai Mahal Palace Hotel. The food is only enhanced by the setting, so if it's not too hot you should dine alfresco to enjoy the opulent grounds.
Cool off with a Lassi.
Be sure to head to Lassiwala (the original lassi shop) to pick up the deliciously creamy and cool signature Indian drink: a yoghurt lassi. It's served in a clay pot and gives you a true taste of Jaipur.
Shop Small
Head off the beaten path to Rasa, a small boutique which is great for gifts and souvenirs. They offer beautiful handmade silk clothes and gorgeous pillow covers.
Keep Your Eyes Open
You can find inspiration anywhere, and nowhere is that more true than in India. I found these incredible hand-painted cards at a street vendor outside my hotel.
The Travel Essentials Christina Swears By