Instagram's Most Droolworthy Holiday Baking Inspo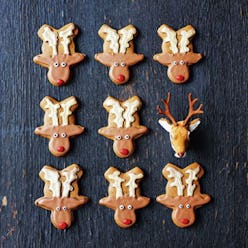 When it comes to the holidays, there's one tasty activity that gets even the scrooge into the spirit: baking. And because there's nothing that says happy holidays quite like biting into a spiced Christmas cookie or a spoonful of warm toffee pudding, we've pulled together Instagram's best baking inspiration. From the classic to the inventive, these sweet treats are sure to inspire your inner pastry chef.
Rudolph Biscuits
While these adorable Rudolph holiday cookies may seem like a lot of work, they are actually the product of one wonderfully sneaky trick. Turn a gingerbread man cookie upside down before decorating. See it now? You know what that means: You totally got this.
Christmas Chocolate Bark
This deceptively easy-to-execute white chocolate Christmas bark is all kinds of delicious and is colorful enough to get you in the spirit of the season. Even better, it's the perfect bake-able gift to give away as a gift.
Red Velvet Christmas Cupcakes
It's not like we need a holiday to get behind red velvet cupcakes, but these ones take one of our favorite flavors to whole new holiday heights.
Norwegian Almond Butter Cookies
Festive almond-flavored cookies are delicious in their own right but these red and green-embellished ones are the perfect way to spread the holiday cheer this year. And let's face it, anything with sprinkles always makes for a perfectly 'grammable desert.
Gluten And Dairy-Free Coconut Macarons
Who says Christmas baked goods are bad for you? These gluten-free, reduced-sugar macaroons are all kinds of festive while remaining healthy, giving you the best of both worlds.
Chocolate-Dipped Cardamom Fudge
While this delicious chocolate cardamom fudge may not look super holiday inspired, these spice-filled, bite-sized pieces are all kinds of holiday indulgence.
Sticky Toffee Pudding
If the holidays have you in the mood for some classic Christmas baking, look no further than this richly spiced sticky toffee pudding. Bonus: it's also gluten free!