Infused Alcohol Is The Perfect Party Trick To Try This Holiday Season
Courtesy of Lustau Bianco Vermouth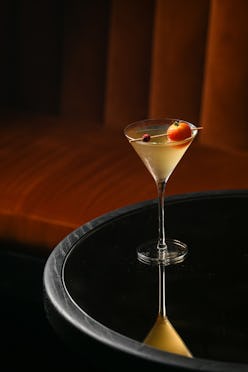 When it comes to cocktail preparation, the methods seem pretty straightforward. There's shaken. There's stirred. And the popular collegiate practice of pouring the spirit and mixer straight into a red Solo cup. But there's another method that's been gaining steam and promises to tingle your tastebuds and it allows you to customize your cocktail to your palate's preferences. That method is infusion.
If you've savored a spicy margarita and didn't spot a jalapeño in your glass, chances are you're already an infused cocktail-lover. So, what exactly does it entail? Simply put, Trevor Langer, head bartender at Jacs on Bond/Authentic Hospitality explains, "liquor infusion is the process of taking something and letting it steep into a spirit. "Essentially the same process as making tea." This layman's definition is helpful for novice mixologists to grasp the basics, but infusions make the number of possibilities for cocktail creation as complex and boundless as your imagination.
Ashby Marshall, head distiller and owner of Spirit Works Distillery in Sonoma County, CA, gives her take on the benefits of the process. "I see infusions as a technique to impart new flavors into a liquid — usually this is done by soaking the botanical(s) in that liquid for a period of time and then removing them," she says. Aside from giving the spirit a new, distinct flavor, there's another reason why the steeping technique is used in lieu of muddling ingredients and throwing them in a shaker. "The biggest benefit of infusions that comes to mind is that you don't have to deal with many solids or 'floaties' in the spirit," Marshall notes.
As for the actual process of infusion, Marshall explains that there are a few different techniques that can be utilized to reach the desired outcome. The first she mentions is adding botanicals into a spirit, letting them sit for some time, and then straining them out. Alternatively, they can be put in a small mesh bag to make extraction easier.
Other techniques include maceration, "to impart flavor and color of any botanical by soaking them in spirits and then squeezing/pressing them to extract any remaining flavor, color, and juice," says Marshall. Another hot (literally) technique is called decoction, which "imparts flavor and color of any botanical by soaking them in a hot (not boiling) liquid and then squeezing or pressing them to extract any remaining flavor, color, and juice," she adds.
Infused Spirits Rules Of Thumb
Beverages made with infused spirits sound like elegant elixirs, but that doesn't mean they take an expert to make a good one. Our experts have some tips to make the process easy and smooth. First up, you'll need to get prepped, just like if you would for a gourmet dinner.
"You'll need your quality spirit of choice, a wide mouth container with a sealing lid, a fine strainer and/or cheesecloth, and a little inspiration," Marshall advises. As for what spirits work particularly well with infusion, her first choice is a quality vodka, because it provides what she calls a fairly blank canvas. "Botanicals that go nicely with Vodka are things like cucumber, raspberries, lemon, fennel, mint, and passionfruit," she says. Langer agrees with her assessment adding that vodka "won't mask the flavors you're trying to infuse it with."
Both master mixologists recommend staying away from gin because the distiller has already taken care of infusing the alcohol and essentially it is already an infusion. Marshall says that whiskey can be a bit trickier to infuse because it already has such a significant amount of flavor. She recommends baking spices, sage, orange, blackberries, and cherries if you decide to work with it. She continues, adding, "for whiskey there's the option of infusing with smoke via a 'cocktail smoke infusion kit'."
For tequila enthusiasts, Langer advises making "vegetal infusions" and rum drinkers can work with "almost anything if you find the right rum." As for ingredients to stay away from when working with infusions, Marshall has a resounding answer. "I wouldn't recommend any dried herbs in general for infusions," she states. Marshall adds pineapple, hops, dried coriander, and lemongrass to the list of ingredients to avoid for infusion because they, "do not show up as nicely as one would hope."
Once the ingredients are settled upon, Marshall has some basic tips to make the process seamless. She advises using a one-part botanical to three-parts alcohol ratio and infusing in a receptacle that has a good seal. "Alcohol can and will evaporate over time," she says. She also emphasizes that the material the container is made of is just as important. "Always infuse in glass (or stainless steel) containers, as spirits can breakdown some types of plastics."
When preparing your fruit, she likes a "medium chop" as it's the best to extract flavor and cautions at-home mixologist be mindful to "not mash fruit up or you will end up with solids." Once your infusion is made, Marshall explains that fresh botanicals only need to be in alcohol for three to four days, as they will start to breakdown after that, while "dry botanicals like pink peppercorns, cardamom, and star anise can be stored as long as you like, but a two-week infusion should be sufficient," before straining.
Now that we've covered the basics, ahead, indulge in expert-approved cocktail recipes that fuse spirits, fresh ingredients, and flavor that will change the way you craft cocktails at home.
Strawberry Fennel Fizz Cocktail
One of Marshall's favorite infusion cocktail creations utilizes her one-of-a-kind Strawberry-Fennel Flavored vodka. The licorice-y bite balances the bursting sweetness of strawberry and creates an infused flavor explosion that's easy to make and even easier to drink.
Ingredients
2 oz Strawberry-Fennel Flavored Spirit Works Vodka**
1 oz simple syrup
1 oz lime juice
Spirit Works Distillery Citrus Aromatic Bitters
Spring of fennel or fresh strawberry to garnish
Instructions
Add all ingredients and ice into a cocktail shaker. Shake ingredients with ice, double strain, and pour into a highball glass with ice. Top with soda water and five drops Spirit Works Distillery Citrus Aromatic Bitters. Add a fresh sprig of fennel or strawberry to garnish.
**Strawberry-Fennel Infused Vodka
Ingredients
1 bottle Spirit Works Distillery Vodka
.5 cup of quartered strawberries
.5 cup fresh fennel stalks
Directions
Take ½ cup fresh fennel stalks and ½ cup quartered strawberries and add that to 3 cups (1 bottle) of Spirit Works Distillery Vodka in a large jar or something you can seal. Turn jar over a few times once a day for 3 days. Finely strain the botanicals out — you might have to use cheesecloth for the strawberry seeds.
Caprese Martini
Langer takes the flavors of your favorite salad and transfers them to a martini glass. His stirred, not shaken, twist on the iconic beverage is a chance to experiment with the savory side of infusions. He says fat-washing the vodka infusion with olive oil gives it "an added viscosity or velvety mouthfeel."
Ingredients
2 oz of tomato basil-infused, olive oil fat-washed Grey Goose Vodka**
1.25 oz Lustau Bianco Vermouth
2 dashes balsamic vinegar
A pinch of Maldon salt
Skewered cherry tomatoes for garnish
Instructions
Pour 2 oz of the infusion into a mixing glass. Add 1.25 oz Lustau Bianco Vermouth into mixing glass. Put balsamic vinegar into a dashing bitters bottles and add 2 dashes or roughly 1/4 teaspoon if you don't have a bitters bottle. Add small pinch of Maldon salt to mixing glass. Add ice to the top of your mixing glass and stir until preferred taste/dilution
Using a Hawthorne or Julep strainer, strain your drink into a martini glass. Garnish with a skewered cherry tomato, and even a mozzarella ball if you're feeling fun.
**Tomato Basil-Infused Vodka
Ingredients
1 liter bottle of Grey Goose Vodka
2-3 roma tomatoes
.25 lb fresh basil
2-3 oz extra virgin olive oil
Instructions
Empty a bottle vodka into a receptacle. Thinly slice Roma tomatoes and add to vodka. Add basil to vodka. Stir all ingredients, cover receptacle, and let sit for 24 hours. Strain tomatoes and basil from vodka so there are no solids. Add extra virgin olive oil to infused vodka. Stir, and place infusion into freezer until frozen. This process may take 6 to 12 hours. Gently remove solid fat layer and discard. Strain the infusion once more to catch the small leftover solid fats. Pour infusion into bottle.
End Of Summer Old Fashioned
Keep the ease and deliciousness of summer going all year long. When you're yearning for this berry and stone fruit concoction out of season, defrost frozen fruit for infusion. This Old Fashioned makes a peachy treat 12/365!
Ingredients
4 oz peach blackberry-infused Off Hours Bourbon**
1 tsp brown sugar
2-3 dashes bitters
.25 oz lemon juice
club soda
orange slice
Instructions
Combine all ingredients in a cocktail shaker, add ice. Shake vigorously until it's ice cold and sugar is dissolved. Serve in a rocks glass over fresh ice. Top with club soda and garnish with an orange slice.
**Peach Blackberry Infused Bourbon
Ingredients
1 liter of Off Hours Bourbon
2 ripe peaches
8-10 blackberries
Directions
Roughly chop fruit and mix with Off Hours. Store in an airtight container in the fridge for 3 days before straining through a cheesecloth. Keep refrigerated. Infused Bourbon lasts about 14 days.
Daisy De Janeiro
This infused libation was created by Timothy Everhardt of The Adelphi Hotel in Saratoga Springs, NY. His idea was to put a twist on cocktail classic, Daisy De Santiago, by substituting white rum with the grilled pineapple-infused cachaça, and regular simple syrup with something with a lot more character. He also wanted to pay homage to the Brazilian coconut and added an herbaceous, floral component to the cocktail with yellow chartreuse.
Ingredients
2 oz grilled pineapple-infused Novo Fogo Cachaca**
0.75 oz coconut turbinado syrup***
0.75 oz lime juice
0.5 oz yellow chartreuse
pinch of salt
egg white
Instructions
Combine all ingredients in a shaker tin. Add ice. Shake for 30 seconds. Strain and dry shake. Pour into a chilled cocktail coupe. Garnish with pineapple round.
**Grilled Pineapple-Infused Novo Fogo
Ingredients
1 whole pineapple
25 oz Novo Fogo Silver Cachaca
Instructions
Peel, de-core and cut 1 whole pineapple into 2-inch-wide strips. In a pan, sear pineapple until there is a light char. Flip over and repeat until all sides are lightly charred. Cut into chunks and put into container. Add Novo Fogo Silver Cachaca to container and seal. Give container a light shake to incorporate the pineapple and the liquor. Store in fridge for 24 hours. Strain cachaca and transfer into bottle.
***Coconut Turbinado Syrup
Ingredients
3.5 oz shredded coconut
8 oz turbinado sugar
8 oz water
Instructions
Add water and shredded coconut into saucepan. Bring to boil. Remove from heat and stir in turbinado sugar. Let cool and strain into a container.
Invierno Ilegal
"Swicy" is the new flavor of the moment, and this infused cocktail takes the TikTok trend to new heights. The double-infusion beverage packs a punch of fruity flavor with infused guava syrup and brings the heat with cinnamon-infused tequila. Lime juice adds just the right amount of acid to make this drink delicious to the pickiest of palates.
Ingredients
2 oz. cinnamon-infused Ilegal Reposado**
.75 oz. guava syrup**
.75 oz. fresh lime
grated cinnamon (for garnish)
Instructions
Add all ingredients to a shaker and shake vigorously until chilled and strain into a coupe glass. Garnish with grated cinnamon.
**Cinnamon-Infused Reposado
Ingredients
2 sticks of Mexican cinnamon
25 oz bottle of Ilegal Mezcal Reposado
Instructions
Add Mexican cinnamon to one bottle of Ilegal Mezcal Reposado and let sit for 6 hours.
***Guava Syrup
Ingredients
1 cup of sugar
1 cup of guava juice
Instructions
Add sugar to guava juice. Bring to a boil until sugar is dissolved. Let cool.
Tito's Sweet Pepper Paloma
Say sayonara to spice and bon jour to sweetness in this vodka-based take on a traditional Paloma. The sweet pepper-infused vodka also adds an earthy flavor to the boozy beverage and level it up to an out-of-this-world cocktail.
Ingredients
1.5 oz sweet pepper-infused Tito's Handmade Vodka**
3 oz sparkling water
1 oz grapefruit juice
.5 oz lime juice
.25 oz simple syrup
Mint Sprigs for Garnish
Instructions
Leaving out the sparkling water, add all ingredients to a shaker with ice. Shake and strain into a glass over fresh ice. Top with sparkling water and garnish with a mint sprig.
**Sweet Pepper-Infused Vodka
Ingredients
25 oz Tito's Handmade Vodka
10 Sweet Peppers
Instructions
Slice peppers and remove seeds before adding to a resealable container. Fill with Tito's Handmade Vodka and store in a cool, dark place for 5 days. Taste test. Once the desired flavor is reached, strain the infusion.