How To Do Ibiza Like A Local
There's more to the island than sun-baking and DJ sets.
Faith Xue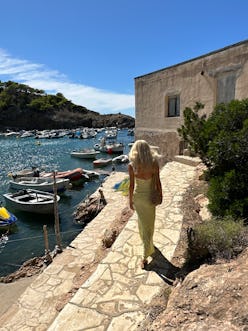 It's easy to dismiss Ibiza as a party island — revelers sun-baking during the day, then dancing until sunrise to thumping bass. Wake, tan, dance, repeat. And while there's nothing wrong with this portrayal, it'd be like visiting Paris just to eat a croissant, or New York just to ride to the top of the Empire State Building — both worthwhile experiences, but you'd be missing out on much of what gives each city its soul.
Below the surface, the Balearic island offers much more than just its sparkling turquoise waters and headliner DJ sets. It's a chance to reconnect with nature while driving through the rolling green hills of Sant Josep; indulge in a perfectly grilled, freshly-caught branzino in a family-owned restaurant in Cap Martinet; and reset your heart and soul as you watch the sun melt into a cotton candy-pink horizon, night after night. Ahead, TZR shares the local's guide to the best places to eat, relax, stay, and shop in Ibiza — from a hidden fish shack on a rocky shore to an eclectic emporium of home goods.
Eat
Cala Jondal, s/n, 07839, Balearic Islands, Spain
Ibiza's buzziest and hardest-to-get-into lunch spot, Jondal offers a delicious menu of fresh seafood (the lobster is a can't-miss) in a beachfront, shaded environment that feels calmer and more restful than some of its counterparts. End your meal with the signature frozen pineapple dessert, lean back, and take in the glittering waves with super yachts dotting the horizon as you sit amongst their owners.
Can Palau De Dalt, s/n, 07800 Ibiza, Balearic Islands, Spain
Casa Maca's restaurant allows you to sit beneath fairy lights and indulge in perfectly char-grilled meat and seafood, while taking in the view of Ibiza's Old Town. It's a foodie hangout and truly special alfresco dining experience.
Punta dels Andreus sin número, 07819 Cap Martinet, Illes Balears, Spain
Tucked away on a rocky shore in Cap Martinet, this unassuming cliffside restaurant offers a simple menu: freshly-caught fish, grilled, with a side of potato salad. It's simple, special, and delicious. Bring a towel, so you can sunbathe on the rocks to the left of the restaurant after dinner.
The view from Fish ShackPhoto by Faith Xue
Carrer de Llucmajor, Salinas, Ibiza , Spain
The MAINE Ibiza is the third outpost of the MAINE restaurant in London started by Joey Ghazal, and it lives up to its reputation. Located in a white-washed 18th century estate directly across from the salt flats of Salinas, it's a picturesque spot to start the night before going down the street to infamous club DC10. Menu-wise, everything is mouthwateringly delicious, but the shrimp carpaccio, spicy rigatoni, and lobster mash steal the show.
Carretera Sant Joan, km. 9, 8, 07840, Illes Balears, Spain
Ibiza's oldest paella restaurant offers sweeping views of Sant Josep's lush green hills in a treehouse-feeling environment. The paella is brought out with fanfare, and served with perfect proportions of rice and seafood. Calling ahead is recommended.
Relax / Stay
Carrer de Bartomeu Vicent Ramon, 9, 07800 Eivissa, Illes Balears, Spain
This newly-opened outpost of The Standard offers a welcome respite in the middle of bustling Ibiza Town. The rooms are airy and light-filled, and the rooftop restaurant offers a Mexican-Japanese menu (don't sleep on the salmon hand rolls) and sweeping views into the storied Dalt Vila, Ibiza's fortified Old Town. Need a last-minute room? Book one through the One Night Standard app the day of for The Standard locations in NYC, London, Bangkok, Ibiza, Miami & Hua Hin — you'll get the best room rate, guaranteed.
Carrer Camí de sa Torre, 71, 07810 San Juan Bautista, Illes Balears, Spain
Located on Ibiza's northern shore, Six Senses offers sweeping views of rocky shores and a health club, Rose Bar, helmed by longevity expert Dr. Mark Hyman — making it the ideal place for those seeking more of a wellness-focused experience during their time on the island. Curious about the hotel but don't want to commit to a room? Stop by the restaurant for a delicious sea-to-table meal, instead.
Camí del Portixol, 2, 07820 Sant Antoni de Portmany, Illes Balears, Spain
Stepping into OKU feels like an instant breath of calm. Swathed in earthy neutrals and Wabi-Sabi design approach, the hillside hotel is an oasis steps away from Cala Gracio bay that will transport you to a more serene state of mind.
Shop
The Rose Photo by Faith Xue
Carrer Venda de Fruitera, 2, 07814 Santa Gertrudis de Fruitera, Illes Balears, Spain
Part fashion boutique, part art gallery and furniture store, The Rose is a hidden gem tucked away on a side street in the small town of Santa Gertrudis; stepping in feels like entering a Technicolor wonderland. Bright silk frocks (designed by the owner herself), jewelry, home goods, and a surprisingly large selection of contemporary art are on display for an instant dopamine boost.
07814 Santa Gertrudis de Fruitera, Illes Balears, Spain
It's hard to categorize SLUIZ. Part clothing store, part home good emporium, part whimsical knick-knack shop, we recommend spending at least an hour (or several) exploring everything the fantastical emporium has to offer. From racks upon racks of clothes and furniture in one room to a full-on café decorated with jewel-toned couches, it's a must-see stop for anyone who considers shopping an experience.
Carrer de la Santa Creu, 5, 07800 Eivissa, Illes Balears, Spain
Before Annie's Collection beaded dresses were all over your Explore page, Annie's Ibiza was the island's best-kept secret for vintage shopping. Started in the summer of 2018 by founder Annie Doble, the boutique offers eclectic, one-of-a-kind designer pieces, from chainmail Paco Rabanne dresses to Chinese silk dressing gowns to Vivienne Westwood corsets. Her namesake line, Annie's Collection, is a direct reflection of Doble's own penchant for vintage-inspired shapes and luxury craftsmanship.