How To Drink More Water This Year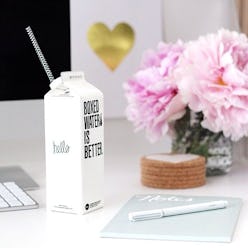 Chances are, with all this "new year, new you" talk, you've already resolved to be healthier in 2016—and high on your priority list is probably drinking more water. Good for you. H20 is the best way to keep your body healthy and hydrated. But let's face it, water can be boring. To make quenching your thirst feel less like a task, we've rounded up a few fancy options that'll help you hit your goal and look cool doing it.
Castle Rock Water
Castle Rock is disrupting the traditional model of bottled water companies, differentiating itself not only with product quality and eco-friendliness but by offering a stake to each employee. And the company actually pays for the water that it bottles, rather than owning the springs. Revolutionaries, much?
Boxed Water
Boxed Water takes good old (filtered) H20 and puts it in a modern take on the classic milk carton that's minimally impactful on the environment and maximally cute—not to mention stackable.
Pressed Juicery
While known for turning out top-notch juices, Pressed also dabbles in bottled water with a signature touch. With products like lemon-cayenne, aloe vera and chlorophyll water, these mixes are perfect when you're looking for an extra kick in the hydration department.
Mountain Valley Springs
Mountain Valley Springs' sparkling, flavored and natural waters come in cool vintage-looking bright green bottles. They even have mini-size, to fit in any bag.