These 5 Hotels Are A Foodie's Paradise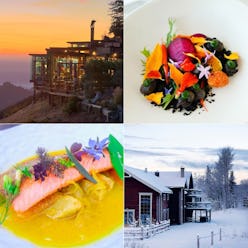 If you base your whole trip around what you're going to be eating, then these hotels are the perfect place to stay to satisfy your foodie wanderlust. For the food obsessed these hotels are destinations worth traveling to in themselves. From delicious and rustic to isolated and quaint and even fine dining, get ready to pack your bags and your appetite!
Travel Like A Foodie
1. Post Ranch Inn, California
Nestled between the pines in California's Big Sur, Post Ranch Inn has been a mecca for culinary enthusiasts since it's opening of Serra Mar, a fine dining regional restaurant by Chef John Cox that boasts sumptuous tasting menus and holds a coveted wine spectator grand award.
2. Fäviken Magasinet, Sweden
Home to one of the most isolated restaurants on earth, this Scandinavian hotel's restaurant is everything we love about new-wave Scandinavian cooking from the hyper seasonal, foraged and hunted ingredients, to old-made-new cooking methods like preserving and salt curing. Considering that this hotel is hours away from the nearest town, staying at Fäviken is a sure fire way to make food the center of your trip.
3. Belcampo, Belize
Perched among the hills of the Caribbean coastline, this fishing hut-turned-foodie hotel is home to a 1,200 acre organic farm that, under the guidance of previous Trois Mec chef Renee Everett, creates a seasonal sustainable menu comprised of meat and produce sourced from the hotel's farms. Love coffee? Belcampo also boasts an unparalleled coffee program in partnership with Blue Bottle including a newly burgeoning coffee plantation.
4. Willow's Inn, Lummi Island
Located on a small island off of Washington's coast, the restaurant at Willow's Inn is headed by award winning chef Blaine Wetzel, who offers a prix fixe menu well worth the trek it takes to get there. Beyond an unforgettable meal prepared with local, foraged ingredients you can also learn how to forage on a foraging outing of your own, complete with kayaking and whale watching.
5. The Royal Mail Hotel, Australia
Headed by chef Dan Hunter, the restaurant at The Royal Mail is all about unconventional ingredients in the form of a seasonal tasting menu. Deep within the Australian outback, if the location isn't enough to get you there, the locally grown produce and 2,600 bottle wine cellar is enough to draw in even the most intense foodie.