These Home Decor Trends Are Going To Be Huge This Fall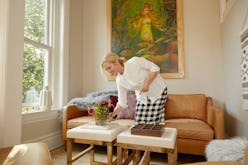 On a recent trip, we had the opportunity to chat with one of our favorite women in the design world, Emily Henderson. When Emily talks about anything, you listen, but with fall quickly approaching, her wisdom is needed now more than ever. Keep reading to learn what seasonal decor she swaps in her own home, what style of design she thinks will trend next, and where she finds her inspiration—no matter the time of year. For the complete guide to Emily Henderson's home inspo, check out the full article here.
This article was originally published on Domino.
Emily Henderson
Muting The Color Palette
Henderson admits to craving more color in her home (and life!) once spring rolls around. But like the rest of us, the stylist looks to more natural and neutral hues for fall. She says, "I just kind of mute everything a little bit."
Sourcing A Wide Range Of Inspiration
Whether you're searching for a new color palette for fall, a certain style of room, or organization ideas, take a cue from Henderson and start your search with Pinterest.
"Pinterest is amazing," Henderson says. "I don't troll Pinterest like I used to, but when I'm looking for something, I go to Pinterest first."
She also looks to high-end designer stores that are FULL of inspiration for new ideas.
"It really does kick start everything," she says, "And you realize what people are doing, what's aspirational, and then you can kind of do your own version of that."
Shopping Target's New Home Line For Accessories
Speaking of making a design idea or trend your own—at a more affordable price, as always—new products from Target's Threshold home line, which Henderson serves as a Home Style Expert for, are launching September 11. Among Henderson's favorites are the lighting, textiles, trays, boxes, vessels or vases, and any and all finishing touches.
She says of her trips to Target, "We buy the furniture too, but when I'm styling—it's all the accessories, all the final layer, for sure. Because it's super affordable, it's stylish, and it's always on trend, and it sells out, so there's this immediate like, I gotta get it before it sells out!"
Though Target finds are so affordable, we often have trouble deciding whether to press purchase no matter the price tag. After reading one of Henderson's recent Instagrams, we knew she would be able to help.
Looking Past The Minimalism Trend
For the complete guide to Emily Henderson's home inspo, check out the full article here.