Organize Your Desk For A Productive 2016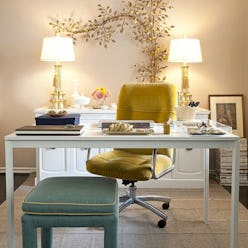 It's hard to feel like a boss at work when you can't find a functioning pen and you keep tripping over the cord that's charging your phone. So we've combed Pinterest for the best tips and tricks to create organized and inspired spaces where you can channel that new year's motivation into some seriously productive momentum.
Gold Desk Tray
Organize your desk top with chic and stylish desk accessories. A desk tray with gold accents is a great way to keep office staples (pun intended) at your fingertips.
Acrylic Desk Tray
Try a more subtle approach with an acrylic version to keep your odds and ends corralled.
Acrylic Desk Accessories
Acrylic desk accessories declutter by being invisible. Fill them with pretty pens, pencil, paper, etc for maximum effect.
Pen Holder
For the note taker who appreciates quality over quantity, the Tipsy Writer keeps your favorite pen in place with minimalist chic
Repurposed Pencil Holders
In a pinch, an elegant mug, vase or even an empty holder from a favorite candle can be a way to personalize your space without sacrificing polish.
Label Paper Clips To Pinch Your Plug-Ins
To keep track of all your plug-in ends, thread them through labelled paper clips so a quick charge is always within reach.
Keeping Cords Out of Sight
Unleash your inner artist on an extra box to make a cover for a power strip, your ugly plugs and all that extra cord with a little personal style to spare.
Receipts, Bills and Miscellaneous Mail
Even those of us most determined to digitize our lives, still find ourselves awash in papers to be piled, filed, posted and processed. Hanging folders are a great way to get all these bits organized and off your desk.
Metallic Folders
Receipts and bills may be boring but a bit of shine makes them chic and tidy until you're ready to send to your accountant.
Pretty Boxes
Toss your bits into pretty boxes for the easiest way to keep everything contained until they're ready to be paid, posted or processed.
Inspiration at Eye Level
Given the number of hours we spend at our desks, whether at home or at the office, if you're facing a wall, make sure it's a source of beauty and inspiration in your day. Framing your favorite cards, pics and personal mementos is the perfect way to give it some polish.
Mood Board
If the mood board is more your thing, a framed version gives your notes, quotes and pics some polish.
Repurposed Bar Cart
If you're a little short on desktop real estate, we love the idea of repurposing a vintage or sleek new bar cart for all your extras.