Take A Look Inside Miranda Kerr's Stunning (And Eco-Conscious) Malibu Home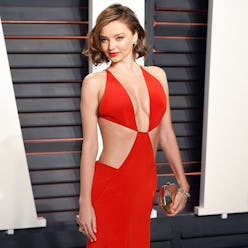 Miranda Kerr is really living. In the September issue of Harper's Bazaar, the recently engaged model opens her doors to her new home in Malibu that is not just stunning, but environmentally friendly to boot.
Nestled on a hillside overlooking the beach, the Aussie's 1960s ranch home boasts tranquil yet opulent vibes (read: white linen walls, Hermès scarf pillows, velvet sofas—oh, and a clear acrylic baby grand piano). Complete with an infrared sauna/meditation room in her guesthouse and a small gym with state-of-the-art Pilates equipment in the pool house, the most impressive features are those that prove Miranda's commitment to the environment.
With the flick of a switch, the model can turn off devices that emit disruptive electromagnetic radiation from her nightstand and she makes use of a machine called the Skywater 300, which draws moisture from the humidity in the air and produces enough water for the entire house, including showers, drinking water, irrigation and a waterfall that cascades into a koi pond—a gift from her fiancé, Snapchat CEO Evan Spiegel.
Here, get a glimpse of the gorgeously green property for yourself.