How To Make Your Home Look More Instagrammable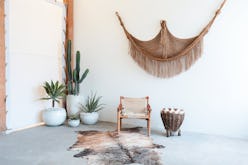 When it comes to updating your space, the best place to start is with a solid source of inspiration—which is exactly what the brains behind LA's most Instagram-worthy massage parlor The Now did. Based on the aesthetic of Tulum's Coqui Coqui hotel, this relaxing getaway is the perfect retreat in a busy city. Turn your home into a similarly zen sanctuary with potted cacti, eclectic accents and minimalist furniture. (You might want to create a personalized hashtag, as your home will quickly fill the Instagram feeds of your guests.)
The Home Office
Warm up your office space with natural textures and potted plants. Insert textural accents like hide rugs and, for the bold, a hammock full of pillows or cushions.
Get The Look
The Bedroom
Make your bedroom inviting and cozy with high-pile Moroccan rugs and macrame wall hangings. Natural finishes and greenery keep the room feeling light and airy.
Get The Look
The Living Room
Comfortable chairs (especially those draped in cozy sheepskin throws) make guests feel right at home. Keep the lighting soft with candles and wicker light fixtures.
Get The Look