Kanye West's Interior Designer On Ways To Update Your Home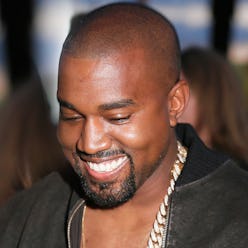 Whether you're a fan or not, Kanye West knows a thing or two about establishing a distinctive style—and that doesn't end at his fashion choices. We tapped his former interior designer Don Stewart for easy ways to update your own space, even if you don't have an unlimited budget. We promise you'll "feel like Pablo" when it's all said and done.
Get Like Yeezy
Experiment With Wallpaper
"Wallpaper designs in watercolor washes are huge this season. It might not be for everyone but they are a major update from stark white walls. When creating a statement wall, I always look to Trove wallpaper because they have an amazing selection of wall coverings. If you aren't quite ready for such a change, an ombre of dusty rose, faded lilac and white looks beautiful."
Go Au Naturale
"Natural woods and Belgian linens have become a staple in todays design market. Earthy, natural, sun drenched, bleached and even burnt black is on trend for Spring. And as always, you can customize by bringing in some color!"
Bring The Green Inside
"There is definitely a trend to bring plants inside but if you don't have a green thumb, consult with those who know how to keep them in perfect condition. I go to Tropics in Los Angeles, they are wonderful and can help you pick the right plants and provide maintenance info. Stay away from faux plants, as they can downgrade your existing decor."
Work With What You Have
"Bored with your current decor? Change is always good. Pillows and cashmere throws are a great way to update the personality of your sofa. Also, rearranging furniture can completely change the energy and flow of a room."
Make It Yours, Even If You Rent
"If you're renting and are not allowed to paint or hang anything on the walls, I say, 'paint anyway!' If you are a responsible tenant you will patch and paint before you leave as I always did. If you like to follow the rules, pick up (or create) some larger art and simply lean it against the wall. This is something I do often in my own home and for clients—it lends a casual, relaxed tone to a space."
Make It Guest-Friendly
"If you're having guests over, edit, edit, edit! Reduce some of the clutter—you can always put it back. Make a trip to the a flowermart or even your local grocer to pick up some seasonal flowers. Groups of 3-5 in a low bowl adds a freshness and happy tone to any room."
Be The Hostess With The Mostess
"At your next intimate dinner party, place your table settings on your coffee table. Nothing says "mi casa es su casa" like kicking off your shoes and sitting on the floor as you catch up. There's no better way to put a gorgeous Moroccan rug to use."