Jenni Kayne's Home In Lake Tahoe By Domino Magazine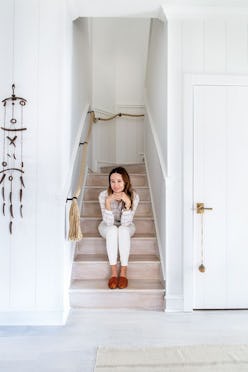 Growing up in Southern California, designer Jenni Kayne spent nearly every summer of her childhood at her family's waterfront home on Lake Tahoe. Her parents purchased the woodsy hideaway over 35 years ago when they were first dating but decided to sell it a decade ago after Kayne and her two sisters, Maggie and Saree, had grown. However, in 2011, the siblings bought back their beloved vacation home as well as the Cape Cod–style cottage next door, where Kayne continues to spend her summers boating, hiking, cooking and hanging at the lakeside beach—now with her own family. "My husband comes up on weekends and my parents, sisters and friends visit often," Kayne says. "It makes for a lot of barbecues on the front porch, afternoon picnics across the grassy lawn and lazy days spent lounging by the lake." To take the full tour—and for more gorgeous home inspo—click here.
The Kitchen
Kayne installed custom wood cabinetry and painted brick backsplashes for a more rustic feel in the kitchen.
The Bedroom
Soft layers of white and cream allow textures to make a statement in the bedroom.
The Living Room
The space is adorned with vivid artwork inspired by the surrounding landscape, including a pair of Melanie Pullen photographs in the living room.
To take the full tour—and for more gorgeous home inspo—click here.