4 Ways To Decorate Your Home With Instagram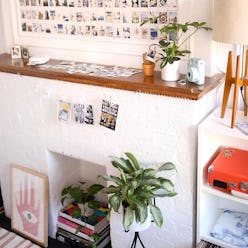 Our Instagram posts often capture the most beautiful, happy and creative moments we experience in life (filtered or not). So when it comes to adding unique touches to your home or office, what better way to decorate a personal space than with your best memories from social media? With everything being a photo opp these days, we honed in on four ways in which you can transform an Instagram into art. Get inspired here.
Instagram As Art
Social Print Studio App
Print your photos in a variety of sizes (including the classic Insta square) directly from your phone via Social Print Studio. Other options include creating photo books of a vacation or major event to sit atop your coffee table or calendars for your desk at work.
CanvasPop
Make stunning high-resolution canvases of your Instagrams for wall hangings or to give as a gift with CanvasPop. Simply log into your Instagram account from the website and, voilà!—instant art. Be sure to check out their "inspiration" tab if you need a little help brainstorming arrangements.
Fujifilm Instax Portable Printer
This Fujifilm portable printer connects to your phone through Wi-Fi to print your Instagrams on the spot. A throwback to the Polaroid days, these look great tacked onto an inspiration board, assembled as a collage or as party favors from a gathering with friends.
Umbra
For endless ways to creatively show off your fave 'grams, Umbra is home to a variety of photo displays that achieve a collage look without the arts and crafts hassle. As modern alternatives to the standard frame, these innovative displays work in tandem with Social Print Studio, CanvasPop or the Fujifilm Instax Portable Printer.