How To Incorporate Leather Décor Into Your Home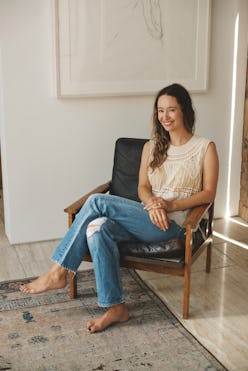 If presented with the opportunity, we'd gladly give Jenni Kayne carte blanche over our lives, starting with a complete closet revamp and a thorough Jenni-fying of our living rooms. Sadly, life-coaching is not in the busy designer's repertoire so we'll have to settle for tips on incorporating her latest obsession—leather décor— into our homes.
Photo: Yayo Ahumada
Think Outside The Box
"As classic and timeless as leather is for the wardrobe, I find it equally so for the home. Rich in character and ever appreciating with age, it's a staple in my home as well as my Montecito home store."
Best Seat In The House
"I fell hard and fast for these Virginie Lobrot safari chairs I found last year in Paris. Incredibly chic and practical, they work well with a wide variety of design aesthetics."
To order by phone call 806-309-0560
It's All In The Details
"When I discovered Sol & Luna, a Spanish manufacturer and retailer best known for its leather covered objects and furniture, I was instantly obsessed. Turning ordinary objects into treasures, the brand offers a multitude of great pieces. Some of my favorites include the baskets, garden buckets, thermos, ice bucket, ice box, serving tray, hip flask, clipboard and pens."
Leather In The Kitchen
"One of my new favorites is the Santa Barbara-based Make Smith, a brand rich in tradition with a product offering that feels all at once modern and timeless. I love their third-generation leather craftsman Steven Soria's pieces so much we created a capsule collection for my Montecito store. Some gorgeous handmade picks include this leather-wrapped bronze bottle opener and these leather skillet sleves and pot holders."
To order by phone call 310-860-0123
Hot Stuff
"I first came across these suede pot holders at a store called March in San Francisco. As functional as they are beautiful, they are one of their best sellers—and one of my kitchen staples."
Get Cozy
"I love these leather cozies from Wood & Faulk for a mason jar, tea, coffee or even beer—they're super practical and look great."
Toughen Up Your Tech
"Another great way to incorporate leather details into the home is mouse pads—I love the look and feel of them. I just found one similar to this at General Store in Venice."
Stock Up On Superfly Accents
"I like all things beautiful for the home, even the smallest of details like a fly swatter. Some great leather options are this English leather and White Ash classic from Kaufmann Mercantile, and this leather and Beechwood option from Bürstenhaus Redecker."