6 DIY Hacks That Make This Ikea Dresser Look So Expensive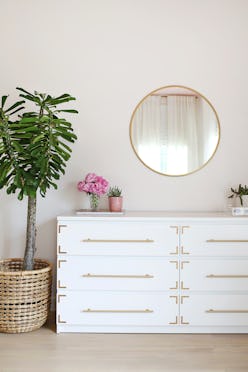 We love Ikea furniture for many reasons: It's scary affordable, versatile and, for the most part, relatively easy to assemble on your own (just add wine). However, with these pros comes one small downside: Everyone has it. Take the Malm chest, for example—chances are, you either have owned or currently own one. And despite the iconic series' sleek, timeless design and neutral colorway, we don't blame you for growing tired of it. But fear not! Fellow Malm owners around the world are sharing their DIY dresser hacks via Pinterest, which leave the pieces virtually unrecognizable. Here, the most impressive Malm-overs we've seen thus far. Your next weekend project awaits!
Modern Details
Brass or lucite knobs add a fresh, modern touch to any dresser. Read the full DIY here.
Statement Print
This is officially the fastest hack ever. Behangfabriek offers printed Malm decals that are easy to both apply and remove.
Glam Workspace
Building a Pinterest-worthy workspace is easier than you may think. Learn more here.
Campaign Hardware
Emulating a costly campaign dresser can be done in a few simple steps (and for far less). Read the full DIY here.
Marble Accent
We can't believe it's not (real) marble. Here's how to fake it.
Mid-Century Console
Repurpose your Malm dresser to serve a new function, like this unique take on a Mid-century console. Uncover the hack here.