Pro Tips For A Closet Cleanse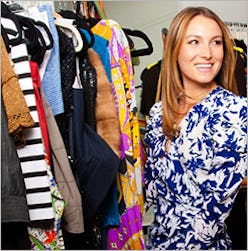 Believe it or not, there is a downside to cool new wardrobe gains: overcrowded closet syndrome. Nip the issue in the bud this fall by following tips from Closet Rich founder, Elizabeth Kott. Read on to learn about her charitable e-commerce consignment shop, then develop a savvy strategy for cleansing your own closet. After, reward your efforts by scooping up something chic from her site and receive free shipping with exclusive code ZOERICH.
The story behind the Closet Rich inception…
"I was just beginning my career in fashion and noticed as myself and my counterparts became immersed in the industry, we were constantly acquiring really fabulous items in our closets. The front of my car was half off and dragging on the ground, but I was wearing Stella McCartney (purchased with a friends discount, of course) while driving it. The irony of this always had me joking that I was 'closet rich'.
All joking aside, I had a major need to purge my abundant closet and wanted an alternate solution to the options available to me. I dreamt of a service that spoke specifically to the busy fashion-oriented female—that handled the entire process from acquisition and promotion to sale and shipment. I also thought it was the ideal opportunity to provide a call to action, offering a means to donate pieces to women's charities as well."
Closet Rich picks we're coveting: Christian Louboutin Booties ($635), Kelly Wearstler Ring ($50), Hobo Clutch ($85)
How Closet Rich works…
"Closet Rich operates on a referral basis, acquiring pieces from major influencers in fashion and entertainment and either donating their pieces to various local niche charities or anonymously selling their items on the site to a worldwide customer base. We also host various private pop-up events throughout Los Angeles."
Her tips for making a consignment purchase…
"My first advice to any shopper is that if you have your eye on anything – especially if it is an investment piece – always scour elsewhere to see if it is available in the 'pre-loved' category. With a little research you would be surprised what you can find.
When buying anything pre-loved, the standard rules always apply: check for signs of wear, scratches on buttons and other adornments, and the condition of lining and seams. If the piece is a little tattered, use this to your advantage – you will most likely be able to get the item for a steal. Pieces with adornments such as branded buttons are gems of a find; use these details and apply them elsewhere as an instant upgrade to another garment. It's all about having the eye, and the motivation to re-purpose, that's where the Closet Rich magic happens."
Elizabeth sorting through the racks at Closet Rich HQ. Photo: @ClosetRich
But before you shop, you have to make space! Elizabeth's closet cleanout protocol…
"I continuously abide by what i have coined the 'whatever cleanse'. Go through your closet and pull any items that you are 'whatever' about (i.e not in love with, but not sure if you are ready to part with). Then, take those pieces and stow them away for anywhere from a month to a season. When the mood strikes, revisit the box; hang on to any pieces that bring on renewed sense of excitement, but find a new home for anything you are still not loving."
Her most invaluable closet cleanse tip…
"Recruit a style-minded, trusted source to help with the decision-making. Use their fresh perspective to help you pull together a few new ensembles within your existing arsenal. Revisit that 'whatever' box together and make piles for consignment and donation. The presence of a fresh outlook is not only valuable but beautifully cost effective."
Elizabeth pictured with her frequent closet cleanse buddy, Kristin Reiter of Bleach Black.
On trusted organization tricks and tools…
"Truth be told, messy floor syndrome has cursed me since childhood. To combat this, one of my go-to tricks is to keep all empty hangers in one place (I also am a huge proponent of matching slim hangers, a tip i picked up from RZ). Keep them in the front of your closet, then when you pull something and decide not to wear it, you'll know where to find a new hanger; this makes an immediate re-hang almost as easy as throwing your clothes on the floor. I also am a huge champion of wardrobe bins, they're great for sweaters and workout clothes."
Real Simple Slimline Hangers ($21), The Container Store Open Bin ($15)
Easy access is key…
"If space allows, I recommend to clients that they reserve some easily accessible space for their favorite pieces of the moment. I find having my go-to pieces in one place eases the getting-ready process. Since I don't have the space for this within my own closet, I invested in a wardrobe from Ikea (I changed out the knobs to de-Ikea it a bit) and now keep all my selections for the moment there…a rolling rack also does the trick."
Elizabeth's cherished wardrobe filled with her favorite of-the-moment pieces.
Her wardrobe reward after closet cleansing this fall…
"I'm on the prowl for a camel coat!"