Here's How To Make Your Table Just As Stylish As You Are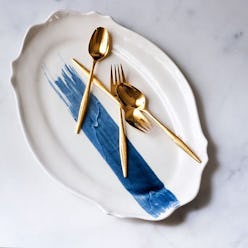 You curate your wardrobe, your home, and your Instagram feed with the eye of an art director so why should your dinner table be any different? Forget plastic plates and glasses; elevate your table settings with these super stylish dinnerware sets, modern cutlery, and designer plates. Now your table setting will be just as perfectly put together as everything else in your life, naturally.
For The Minimalist
A longtime favorite of some of L.A.'s premiere event planners for their wonderfully understated elegance, Heath Ceramics' stunning minimalistic dinnerware is created in small batches by artisans in San Francisco. Go with a neutral color and the set of dishes will go with everything you already own.
For The Trendsetter
When it comes to cutlery, Cutipol's forward thinking designs and luxurious materials, ranging from brushed rose gold to dark wood, truly make them the thing of dreams. Found in some of the best restaurants and most stylish tables in the world, Cutipol sets themselves apart with unique takes on traditional silverware that automatically turn your entire table up a notch.
For The Tastemaker
Widely regarded by restaurateurs and sommeliers alike as the best possible stemware you can buy, Zalto makes hand-blown, feather-light and paper-thin wine and champagne glasses out of Austria. From the sleek design of the body to the incredible weightlessness of the glass, Zalto is truly like none other—it even makes beer look fancy.
For The Textile Obsessed
If there's one secret weapon for the chicest table it is without a doubt a good set of linens. From tablecloths, to runners and cloth napkins, proper linens make your table feel grown up in an instant and immediately pull everything together. We love hand-sewn, Brooklyn-based Britten Couture Home for their vast array of prints and color combinations.
For The Fashionista
If you're wanting something a bit fancier in terms of dinnerware, look no further than Vista Alegre. The porcelain company has even worked on collaborative collections with such designers as Christian Lacroix (pictured above) and Oscar de la Renta. Yes, please!
For The Consummate Hostess
Serving plates should draw just as much attention as the rest of your beautiful table. We like conversation pieces like these handmade platters by Suite One Studio for a splash of color and interesting shape.