Genius Ways To Organize Everything In Your Vanity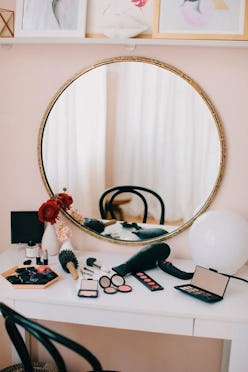 We love hoarding makeup as much as the next girl but you eventually hit a certain point where you need help. If your vanity looks like the aftermath of a tornado, it's time for an overhaul. From lipsticks to eye shadows, see the most genius ways to organize everything in your beauty stash. How's that for a Saturday morning project?
Kick The Clutter
Step #1: Clear Counter Space By Hanging Shelves
The less you have on your vanity counter, the more space you have to work on.
Step #2: Make The Most Of Drawer Space
Use dividers to keep your drawers organized and tidy at all times.
Rule #3: Invest In Secondary Storage
If you refuse to cut down on your stash, an ottoman with hidden storage or a set of drawers are perfect options for concealing your clutter.
#4: Store Your Seasonal Items Elsewhere
Giving your blue liner a break? Pack your summer essentials in a pretty box and store in another room. Swap when the seasons change.
#5: Keep Your Essentials At Arm's Reach
If you use it everyday, keep it where you can access it easily. Store brushes, liner, mascara and other daily essentials in pretty canisters.
#6: Consolidate The Clutter
De-pot your eye shadows, blushes and other products, then consolidate them into a magnetic palette. Now you can rid your vanity of bulky packaging and still keep your favorite products.
#7: Display Your Prettiest Pieces
You can still display your pretty items, but do it in a way that makes your vanity look as beautiful as it is functional. Store palettes in letter holders and smaller items in trinket boxes.