Major Wall Art From Down Under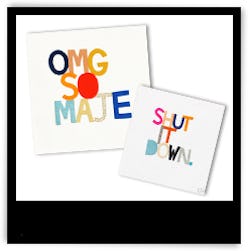 If the walls at RZHQ could talk, they would indubitably say "Omg, so maj!" And now, thanks to Aussie artist Rachel Castle, they literally can! Inspired by the many Zoeisms spoken on The Rachel Zoe Project, Castle created a colorful 5-piece "Ode To Zoe" series depicting phrases from "Shut It Down" to "Bananas" and "It's Everything". We die!
Characterized by Castle's signature cut-out felt letters in happy hues, these poppy prints will instantly inject major personality into your home. Each one-of-a-kind work (like all of Castle's offerings) qualifies as a sassy and chic addition for any art collector to scoop up; a quite literal conversation starter, if you will. Cat got your tongue? Let your walls speak for you!
Availability: Castle 'Ode To Zoe' Felt Prints ($200-$350). For additional information, visit Castleandthings.com.