This Year's Most Popular Decor Trend Is Actually Really Affordable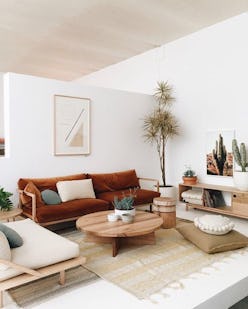 When it comes to redecorating, the struggle couldn't be more real. An area rug can cost more than two month's rent, and the dreamy dwellings you've been re-pinning on the reg are more often than not the work of a professional. But with a little patience, some research and an e-savvy team of editors to lead the way, mastering an enviable abode is so easy (and better yet, beyond affordable). To prove you can channel this year's biggest home-decor trend—mid-century modern—on a budget, here are three perfectly put-together spaces, featuring items for less than $500.
Get The Look: Mid-Century Modern
Living Room
When incorporating wood furniture into your space, make sure the materials are from the same source (example: a walnut coffee table with a walnut-accented couch) to avoid color-clashing.
Bedroom
Compliment bold color and texture with minimalist decor for a clean, modern look.
Office
In the office, accent hues should stay subdued. Keep desk essentials minimal to promote maximum productivity.