14 Chic Ways To Dress Up Your Pumpkin This Halloween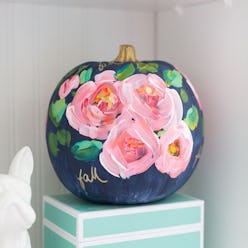 Plain pumpkins are basic—and since you're anything but, we've harvested a crop of chic ways to give your gourds some life this Halloween. From carving to paint to crafty decoupage, these 14 jack-o'-lantern ideas are all you need to get in the spooky spirit and celebrate the festive holiday in style.
Paint It
Whether you prefer flowers or family portraits, ditch traditional Halloween motifs in favor of something a little more you.
Transcribe It
Paint your gourd from base to stem in shades of pastel and use vinyl letters to spell out cheeky Halloween messages.
Chintz It
Throw all spooky stereotypes out the window and hand-paint or stencil your pumpkin to fit right alongside your good china.
Centerpiece It
Hosting a dinner party this All Hallow's Eve? Try a sophisticated fall palette for your table by selecting a pumpkin in a neutral shade and embellishing it with fresh wheat and felt flowers.
Gild It
Perhaps the easiest of all to re-create, these glam gourds will make your home shine. Paint your pumpkins white and glue sequins in a polka-dot pattern.
Coordinate It
Group your pumpkins in pairs or trios and paint them in coordinating poppy prints and colors.
Decoupage It
You probably haven't decoupaged since grade-school art class, but wrapping a pumpkin in printed craft paper or even pages of a vintage book gets you a unique and interesting look.
Monogram It
Add a personal touch to your gourd by monogramming it with paint. If you're feeling especially crafty, paint multiple pumpkins to spell out a message or serve as a name card on a place setting.
Metallic Leaf It
Covering your traditional pumpkin in gold, silver or copper leafing instantly makes it look modern and adds a major element of glam to your home.
Neutralize It
Ditch the traditional orange and black color scheme and paint pumpkins in grays, whites, blues, or whatever matches your home decor to make a statement this Halloween.
Illuminate It
Drill holes in your pumpkin and use battery-powered Christmas lights to brighten it up.
Carve It
When in doubt, carve it—there's nothing like a nostalgic jack-o'-lantern to get you into the Halloween spirit.
Fill It
A flower-filled pumpkin makes the perfect vase for parties. Cut off the top, scoop out the seeds and fill it with the prettiest flowers fall has to offer.
Cactus It
Okay, but how Instagrammable are these? A cactus pumpkin is totally unexpected (and appropriate, given how hot this fall has been).