10 Beauty Products You Should Always Keep At Your Desk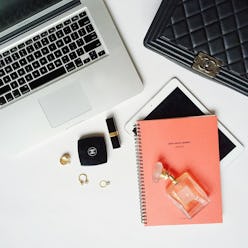 You might be too preoccupied with too many stacks of paperwork to schedule a midday glam session, but that doesn't mean you can't share the space with a few must-have beauty staples—you know, in case of emergencies. Here, the 10 products every working girl should keep at arms reach. Because you're never too busy to look your best.
Work It
Don't get yourself caught smelling less than fresh!
Photo: @margoandme
Oil-Blotting Sheets
Because you never know when you might get caught in a shiny situation.
Travel-Sized Perfume
Smell your best at all times–your coworkers will thank you.
Bobby Pins
There's bound to be a bad hair day sometime, so make sure you're prepared.
Floss
For a post-lunch cleaning session.
Nail File
There's nothing worse than having a broken nail snag your favorite sweater.
Essential Oil
A blend of essential oils meant to keep you focused are perfect for stressful days.
Concealer
Dark circles (and zits) happen, so you can't go wrong with a handy concealer wand.
Lipstick
There's nothing like a bold red to get you looking (and feeling) better STAT.
Face Mist
A quick spritz wakes you up at those times when you need a boost.
Hand Cream
Get soft hands for those firm handshakes.