The Grocery Girl Home Trend Is Taking Over This Fall
The Grocery Girl Home Trend Is Taking Over This Fall
Friends NYC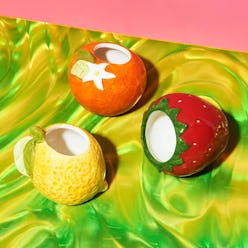 We may receive a portion of sales if you purchase a product through a link in this article.
As many know, summer of 2023 was widely dubbed "tomato girl summer" with all manner of Mediterranean-inspired, pasta-focused motifs and color palettes taking over the fashion realm. Well it seems the trend truly has legs, recently expanding to include all produce and evolving to "grocery girl" territory. Not only that, the supermarket-adjacent look is also coming for living spaces, with home brands embracing fruit-, veggie-, and condiment-focused decor that injects some playfulness into the home.
To be clear, whimsical, grocery-inspired home goods are not exactly new, but the pieces of the past had a bit of a cheesy and almost tacky label attached (think of those ceramic or glass fruit vases in your grandmother's house). In recent years, however, the designs and pieces have gotten très chic thanks to brands like Pamp Shade, Mercedes Salazar, and La Double J. Produce is definitely the theme du jour, and especially fun and festive for fall decor.
If you are drawn to all things quirky and adventurous, may we suggest a croissant- or baguette-shaped lamp to channel your inner French girl or a corn candle for a surreal touch to your space. You can also go the more organic route and grab a raffia storage box with sweet knitted vegetables lining the lid. And for the maximalist home with patterns and color galore, a cherry-printed ceramic vase will look oh-so-cool on your buffet.
Ready to usher in your "grocery girl" fall? Shop the items ahead that span a range of asethetics and preferences, from weird to chic.