Why Grenada Should Be The Next Caribbean Island On Your Bucket List
This hidden gem is about to take over.
M Timothy O'Keefe/Photodisc/Getty Images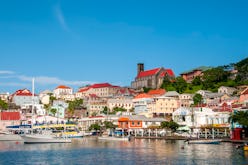 It might just be one of the Caribbean's most underrated destinations, but with pristine beaches, luxury hotels, and a thriving culinary scene, Grenada is quickly revealing itself as the gem of the West Indies. The young country — which will celebrate its 50th anniversary on Feb. 7, 2024 — has been smashing records this year, welcoming 39% more American visitors in 2023 than pre-Covid (2019). Today, the U.S. accounts for more than 60% of the tiny island's travelers, due in part to its proximity to the States (Grenada is less than four hours away from Miami by plane), new regular flight itineraries, and a generous digital nomad visa program. Expect more to come with the imminent openings of Silversands Beach House and Six Senses La Sagesse, the brand's debut Caribbean resort.
"Visitors to Grenada value the escape from reality: beaches, prime resorts, and relaxation," says Petra Roach, CEO of Grenada Tourism Authority. "Regardless of the type of trip you're taking — adventure, relaxation, or a work-from-vacation — Grenada has plenty to share and discover during your stay."
In recent years, Grenada has become beloved among in-the-know travelers for its unspoiled nature, cultural experiences, authentic restaurants, and eco-tourism. If you're looking for a tropical paradise dense with waterfalls, rainforest, and postcard-worthy beaches — that also happens to house the longest infinity pool in the Caribbean — you've found your spot. Here's how to make the most of a vacation there.
Hit Up The Beach
Grenada might be small, but with 75 miles of pristine coastline, it still has some of the Caribbean's most stunning stretches of sand. Just 6 miles from the capital of Saint George's, Grand Anse Beach's sparkling white sand remains beautiful despite its central location and perpetual popularity. It's an ideal location for watersports such as parasailing, kayaking, or water skiing. For something more low-key, try its overlooked neighbor Morne Rouge Beach, where locals come to wade into the calm, turquoise water and snack on fish tacos at La Plywood Beach Bar.
Chase Waterfalls
Grenada's lush, mountainous interior means that the fun doesn't stop on the coastline. Throughout the island's rainforest, you'll discover 18 gorgeous waterfalls, including Annandale Falls (just a 20-minute drive from St. Georges) and the magnificent Seven Sisters, located within Grand Etang National Park. As you hike to the falls, keep your eyes open for adorable monkeys and bright tropical birds.
Indulge Your Sweet Tooth
Grenada isn't just the Spice Island; these days it's turning into a chocolate one, too. One of the few places in the world where chocolate is produced from bean to bar (meaning the farmers are involved in every step of the process), Grenada's volcanic soil and hilly terrain are ideal for growing the Criollo and Trinitario trees from which fine flavor cocoa is made (only 12% of the world's exported beans have this designation from the International Cocoa Organization). Treat yourself to some single-origin chocolate and learn how award-winning bars are made at Belmont Estate, a 300-acre farm, and Jouvay Chocolate, where you can wash down your snack with chocolate beer.
Sail Into The Sunset
Steeped in boating tradition, Grenada is a Caribbean sailing hot spot. (A slew of sheltered anchorages, calm waters, and year-round good weather don't hurt, either.) To really get into the Grenadian spirit, book a tour with Savvy Sailing. Run by local boat builders and fishermen, the charter company helps keep the 200-year-old legacy of hand-building wooden sloops alive; a part of the country's West Indian heritage that very nearly disappeared. Choose from a relaxed sunset cruise (complete with the requisite rum punch) or a full-day adventure to neighboring Carriacou or Calypso Island.
Dive Into Adventure
Home to the world's first underwater sculpture park (created by British "eco-artist" Jason de Caires Taylor, who wanted to use contemporary sculptures as an artificial reef for corals) as well as plenty of shallow dive sites, Grenada makes an excellent underwater classroom for new divers. Looking for something more thrilling? Grenada is also the final resting place of more than 15 shipwrecks, including the 400-foot Bianca C, often referred to as the Titanic of the Caribbean. Sign up for a course or guided dive with Aquanauts Grenada or Dive Grenada.
Savor Grenadian Specialties
Dubbed Spice Island due to its history as an exporter of nutmeg, cinnamon, bay leaves, and other spices, Grenada has earned a reputation for flavorful food. Try out some Caribbean cuisine at BB's Crabback, where locals and tourists alike dig into favorites like jerk chicken, saltfish souse, and the restaurant's signature crabback (crab baked with herbs, wine, and cheese sauce served in a crab shell). On Wednesday evenings, head over to Dodgy Dock Restaurant and Bar to sample an array of street food from some of the island's most popular vendors and listen to live music by the water. Don't miss Grenada's national dish, oil down, a one-pot meal of salted meats and fresh vegetables stewed in coconut milk. For a romantic night out, Mount Cinnamon's open-air clubhouse Savvy's serves farm-to-table, elevated classics like callaloo soup with nutmeg creme fraiche and pan-roasted barracuda with breadfruit and thyme puree.
Where To Stay
Set on the powder white sands of Grand Anse Beach, Silversands Grenada boasts prime real estate, yet feels like a world unto itself. The island's top luxury resort, guests can expect airy, high-tech bedrooms where everything from room service to blackout shades are controlled by a custom phone app, an encyclopedic rum bar, and an indulgent spa that offers restorative massages on a warm bed made of crushed rose quartz crystals. (The heat is designed to open your pores and help them absorb the crystal's energy; yes, it's extremely comfortable.) You'll probably spend most of your stay laying out by the 330-foot infinity pool — the aforementioned longest in the Caribbean — and there's nothing wrong with that. For dinner, arrange a private feast of jerk oyster mushrooms, watermelon sushi, and meatless meatballs in one of the resort's jaw-dropping villas with Joachim Jammeal, Grenada's celebrity plant-based chef.