Must-Have Guacamole Recipe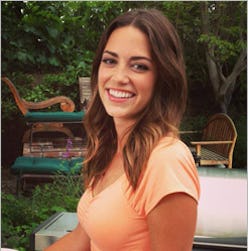 In need of a recipe that will keep your party guests coming back for more? Expert food stylist, as she dubs herself, Megan Mitchell is here to help with a finger-licking recipe for Grilled Guacamole!
Click through for Megan's recipe!
Gather your ingredients.
2 ears corn, 2 large avocadoes (halved and pitted), ½ red onion (chopped), 2 garlic cloves (minced), 2 lemons, 1 lime, 1 jalapeno (seeded and minced), ½ cup packed basil (chopped), 2 tsp. salt 1 ½ tsp. pepper, and Vegetable oil
Bring a grill to high heat (400°). Clean the grates. When the grill is heated, lightly oil the grates with vegetable oil. Grill the corn until cooked and charred on all sides. 8-10 minutes. Remove from heat and let cool.
Next grill the avocado halves, about 5 minutes or until nice grill marks appear but the avocado still holds its shape. Remove from heat.
In a large bowl, add the avocado, scooped out from the skin, chopped red onion, garlic, the juice from both lemons and lime and the jalapeno. Mash with a fork. It should be combined but still chunky.
Remove the kernels from the cooled cob and add to the avocado bowl. Season with salt and pepper. Taste for seasoning. Add the basil. Stir to combine.