The Coolest New Flagship Stores Around The World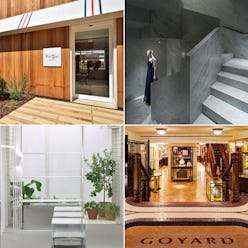 When it comes to your favorite brands, there's nothing quite like setting foot in a flagship somewhere unexpected or far away. Whether it's to play with an exciting concept, launch a new line, or bring the brand's style and vibe from one city to another, these shops are what keep your favorite labels young, buzzing and growing. So to help you get excited about what's new in the world of some of your favorite stores, we've put together a list of the coolest flagship openings this year to date, that are definitely worth a trip of their own.
Jet-Set Adventures Await
Fred Segal DAIKANYAMA, Tokyo
Iconic California retailer, Fred Segal, just opened their first international outpost this past month and we couldn't be more excited. Housed in a chic converted railway site in Tokyo's trendy Daikanyama neighborhood, this luxury lifestyle outpost boasts men and women's stores with the traditional Los Angeles Fred Segal vibe as well as an artisanal culinary market, branded food trucks, and lovely outdoor terraces to enjoy your post shopping meal.
Photos: Courtesy
Versus Versace, Tokyo
Versus Versace, Donatella Versace's new concept embodying the rock-n-roll spirit of its mother brand finds its first home with this Tokyo flagship store. Designed in collaboration with English architect Carmody & Groarkey the space reflects the brand's young, "rebellious" customer through glamorous brass fixtures, mirrors galore and TV screens that stream branded content throughout the store.
Photos: Courtesy
Valentino, Rome
If you're a Valentino fan, then their newest flagship store in Rome is your dream come true. As their biggest flagship store to date, this shop, designed by the brands creative directors Maria Grazia Chiuri and Pierpaolo Piccioli is in true Valentino spirit—covered head to toe in marble, leather and all that glitters for a true luxer-than-life shopping experience.
Photos: via WWD
Maison Margiela, Milan
Margiela's newest addition to their flagship collection in Milan's historic district is a sleek piece of exquisite modern architecture made to stand up to the art of the clothes themselves. Even better? The first floor houses their "artisanal" haute couture collection under newly appointed creative director, John Galliano.
Photos: via Wallpaper
Goyard, New York
This old school (161 years, in fact) Parisian purveyor of some of the most exclusive of leather goods has recently opened up a New York flagship of their own on the Upper East Side. If the brands exclusivity isn't enough to get you there, the Parisian décor and elegance that rivals the original Maison Goyard is enough to make anyone feel like they're in Paris.
Photos: via Architectural Digest