How A Father-Daughter Trip Reminded Me Of The Power Of Travel
And why it's never too late to go on one, really.
Courtesy of Nicole Kliest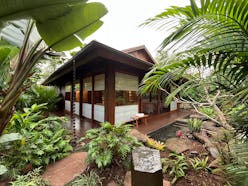 In February of last year, The New York Times published an opinion piece outlining the concept of 'depressing math.' In it, the author details the tough-to-swallow reality that despite our inclination to assume we have countless opportunities to see the people we cherish and do the things we love, if you break it down strictly by numbers, it's quite the opposite. Here's a depressing example for you: I am 36 years old and my dad is 70. I only see him around ten days a year because I am in New York and he is in California. If he lives to be 85 that equals out to around 150 days left with my dad — total. That's not even half a year.
This concept rattled me. And because I had already been toying with the idea of taking my dad on a trip to celebrate his 70th birthday, my recently acquired math skills served as an existential kick in the pants to make it happen. After a few months of schedule arranging and itinerary assembling, my dad and I packed up and departed for the remote Hawaiian islands to stay at Sensei Lānaʻi, A Four Seasons Resort.
I have never characterized the relationship with my parents as a friendship. Because of this, the notion of traveling alone with my dad for the sole purpose of adult bonding felt squarely out of my comfort zone. But in recent past, life's inevitable tides had started to shift. In the two weeks leading up to our trip I got engaged to my partner and the year prior, my dad's mother had passed away (a powerful but traumatic event I was physically present for alongside my dad). Despite clinging on to this notion of him: parental figure, me: kid with responsibility-free future, we were thrust into cycles of life both new and unfamiliar. If ever there were a time to do a father-daughter trip, that moment was now.
After a breezy five-hour flight from LAX to Maui's airport, we hopped on the scenic 45-minute ferry to Lānaʻi and enjoyed views of the migrating humpback whales breaching the Pacific's deep blue surface. Midway across, I glanced over through my sunglasses just in time to see my dad mouth a silent "wow" to himself. This wasn't his first time to Hawaii. In the early 1970s at the age of 19, he travelled to all the inhabited islands with his mom and sister, ending the vacation with an extra month on the north shore to surf. And despite the fact that Hawaii is a very different place now than it was 40 years ago, Lānaʻi has remained rural. In contrast to Maui, which has a population of 164,000 people, Lānaʻi hovers just over three thousand. When you arrive to the island, its quiet appeal is instantly understood.
Courtesy of Nicole Kliest
Courtesy of Nicole Kliest
"That's our rush hour," the resort driver quips as we pass a single car on the road. In fact, the island doesn't have a single traffic light. Lānaʻi is often referred to as the 'Pineapple Island' because it once produced 75% of the world's pineapples, and its continued strong ties with farming is reflected in the bucolic landscape. After winding our way up the mountain and further away from the ocean's edge, the property finally came into view. The first thing you see as you pull onto the Sensei Lānaʻi is a towering Norfolk Pine. It was planted in 1875 and majestically hovers over the white wooden building.
We began our visit with David, a local who was born on Lānaʻi and guides Shinrin Yoku (forest bathing) around the property's lush Kōʻele gardens. "A walk in nature walks the soul back home," David says to us upon arrival, quoting Mary Davis. We make our way over to a magnificent banyan tree to sit and close our eyes, taking in the smells and sounds of the surrounding natural splendor. He offers small magnifying glasses to observe granular details on leaves, branches, and dirt and continues to quote poets and proverbs in earnest. At this point, I wonder if my dad (a retired firefighter who has never had a spa treatment in his life) will write off the next three days of luxury wellness as ridiculous. But to my relief, at the end of our forest bathing session he shakes hands with David. "I can't think of a better way to start this trip," my dad says.
The aim for all of this was simple enough: to spend time together in nature while treating my dad to new experiences that would enrich his wellbeing. We both enrolled in the resort's Guided Wellness Experience, which is a three-night package that teams you with Sensei guides and practitioners to curate an itinerary of spa treatments and private sessions focused on your goals. The process began weeks before we even stepped foot on Lānaʻi with individual questionnaires that prompted us to share what we wanted to get out of our time on the island. After that, we had a phone call to discuss the unique itineraries proposed for us, which were complemented by on-property meetings with our guides at the beginning and conclusion of the visit. In other words, this wasn't going to be a few complimentary yoga classes, it was going to be a real deal wellness retreat.
We begin our journeys separately, with my dad heading for a 1-on-1 fitness session and me to a private meditation class. By the time the hour was up, my dad could almost touch his toes (a big deal considering his lifelong battle with tight hamstrings) and I picked up several new meditation tools, namely those surrounding compassionate thought practice and mental noting. Later, my dad somewhat reluctantly had his first ever massage (more on that later) and I tried the resort's Aquatic Bodywork and Massage, my first ever water-focused treatment.
I met my therapist, Liran at my hale (the property doesn't have a centralized spa, instead, the treatments are held in one of 10 Japanese-inspired spa hales) and his first question to me is, "what have you heard about this?" I laugh. "Everyone who works here has said this is the best treatment," I reply. I change into my swimsuit and we make our way to the tranquil waterfall pool in the back that's heated to body temperature (96 to 98 degrees). He attaches floats to my thighs and tells me my ears will be underwater for the entire time. "From here on out, you do no work," he says. I let my legs float up, close my eyes, he supports my neck, and off we went.
This aquatic bodywork is also called Watsu and is a practice that releases tension from the spine, creating a calming flow. For 60 minutes he gently moved me around in the water like a loose reed in the current, creating space in each of my vertebra. At a certain point, the body temperature water didn't feel like water anymore and the swishing sounds transport my imagination. When we finish, I tell Liran I had the sensation of being in my mother's womb and of floating down the Amazon River. "I've heard that before," he replies with a knowing smile.
Courtesy of Nicole Kliest
Courtesy of Nicole Kliest
Courtesy of Nicole Kliest
Back on the 'mainland' I meet up with my dad at dinner, where we excitedly swap stories about our experiences from the day. By the end of the trip, I realize these are my most cherished memories from the whole thing — those couple of hours each night where we share a meal and just talk. We talk about his earlier years, I tell him ideas I have for my wedding, we laugh over memories of my upbringing. We realize that we both were outside in our hale pool when an earlier storm rolled in and each enjoyed swimming in the rain. "I felt like she was there with me in the water today," he says referring to his mother, adding that he wishes he had done something like this with her before she passed.
The next morning we rise early for a five mile hike to witness a panoramic view of both Maui and Moloka'i, observing Kukui trees and listening to the melodic tweets of white-rumped shamas along the trail. In the afternoon, we set sail aboard a catamaran to snorkel at Shark Fin Cove, a spectacular spot to see technicolor fish and — if you're really lucky — an octopus. On our way back to the harbor I sat on the front of the catamaran, reflecting on a conversation I had the day prior with a staff member at the resort's bar restaurant. I told her why I was here, the 'depressing math' article I had read, and how I wished it hadn't taken me so long to plan this kind of trip. "You can always make more money, you can't buy more time," she replied, sharing that she'd also been putting off a trip with her mother. When I signed the bill, she told me she was determined to finally plan the trip.
Our final meal at the resort's on-property Sensei by Nobu was spent feasting on the surf and turf and New Zealand lamb chop. I ask him to tell me about his Lomi Lomi massage and his extravagant foot treatment. "The last time my feet felt this good was when I was born," he says with perfect comedic timing. I know he's telling the truth because — much to what will be my mother's chagrin when she reads this — he wore flip flops to dinner that night, citing this newfound relaxation as an excuse to keep his feet out of formal footwear. We order another glass of wine, I ask him more questions about his life, and we wrap up another meaningful dinner.
All too soon, our ferry pulled away from the island the next morning and we were headed back to Maui for a quick night of camping and then a flight home the following morning. The three days at Sensei Lanai had come and gone, but as I had hoped, the experiences were cemented in our memories. I realized that in traveling with my dad I was attempting to escape the grief and guilt of a parent growing older. The grief of knowing our days are limited and guilt because the travel experiences I have now are, in part, because of his earlier sacrifices as a parent. But rather than coming away from the trip awash in grief or guilt, I emerged with a newfound sense of agency. The depressing math article asserts that "the time we have left with family and friends is not a law of nature like the weeks we have left to live. It's a function of priorities and decisions." With this in mind, I think I'll stop crunching the numbers for now and simply plan our next trip.