Fall Entertaining Ideas From A Pro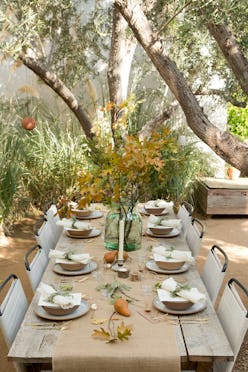 Just in time for Thanksgiving, we asked our resident entertaining expert, Jenni Kayne, to spill her no-stress hosting secrets.
In The Kitchen:
"When it comes to planning a big feast, I try to prepare as much as possible in advance so the actual day runs smoothly. For Thanksgiving, I order my turkey 2 to 3 weeks ahead of time and make a schedule for things that can be prepped earlier in the week. I also make an oven schedule for the actual day so I'm not fighting for space as it can be difficult to bake pies and sides when the turkey is in the oven for hours."
On The Table:
"I set my table the day before the big meal so I don't have to worry about it on the actual day. In terms of the overall look, I choose a theme and color scheme and stick to it. For me, less is more and simplicity always works best. Also, a favor is always a nice touch, especially on Thanksgiving. I love making extra cranberry sauce and putting it in jars for guests to take home, and these "wishbones" add a fun and festive element to the table. But my new favorite is the adorable to-go box Amy Blessing put together. Each one comes with all the components for an elevated turkey sandwich to be enjoyed the next day: amazing cheese, bread and cranberry chutney."
For The Hostess:
"While comfort and functionality are key for a long day in the kitchen, you can still look great doing it. Some favorites: Rachel Craven's beautifully understated aprons and my new mules."
Easy Does It
"For me, the aim is a warm and inviting table–nothing too fussy. That often includes such no-fail favorites as Heath dishware and a simple burlap runner from Creative Women."
Orange Is The New...Everything
"I love incorporating unexpected yet seasonal elements into the tablescape. I spotted these succulent-topped pumpkins at Rolling Greens and fell for them fast."
Get Centered
"When setting a table, I try to incorporate the spirit of the holiday without being too literal. For a fall get-together, white and green pumpkins mixed with crab-apple branches, green and black privet, cream-colored garden roses, viburnum, and snowberries provide a look that is all at once beautiful and a touch dark."
Let The Feast Speak For Itself
"I generally prefer dishware in muted, earth tones—particularly for meals that boast a lot of color. This gives the beautiful food a chance to really shine."
Branch Out
"When looking for seasonal inspiration, one needn't look far. Something as simple as oak branches and fresh fruit can make for a gorgeous display."