Meet The Girls Behind The Cult Current-Events Newsletter The Skimm
Adam Watstein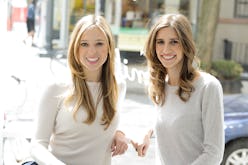 theSkimm Fans
At any given moment, there are too many newsletters in our inboxes to count. But, since it's cool to know what's going on in the world (thank you, Clueless), one e-mail we never fail to open is TheSkimm. Founded in 2012 by Danielle Weisberg and Carly Zakin, theSkimm keeps its 1.5 million subscribers informed on top culture and political stories each day in the time it takes to get a latte. With the intent to enlighten our own readership, we were thrilled to interview the power duo behind the rapid-growing newsletter about everything from their company's inception to their business advice and team building strategy. Read what these inspiring women have to say below, and sign up for theSkimm to hear from them on the regular.
Danielle Weisberg and Carly Zakin, All photos: @theskimm
Answering A Void
"We are longtime friends and former NBC News producers. We loved working in news but saw that the industry was changing and our career path was no longer clear. At the same time, we didn't want to leave a field we loved. So as roommates, we would talk about our friends—who are smart, on the go and very, very busy. They know everything about their industries but don't have a news source that they love or that fits into their routines. They are indicative of a market—the female millennial—that influences a ton of spending. We saw a void in the market for news geared towards a highly influential audience that no one was going after in this way."
Born To Report
"Carly fell in love with news at age five, when she became addicted to The Today Show. Danielle grew up with politics discussed around the family dinner table, and eventually made her way to Washington, DC after college where she converted from political junkie to full-fledged news junkie."
Startup Challenges
"Raising money for the first time was tough for us. We didn't have a business background so even making materials for a fundraiser was a challenge. We learned so much in having to go through it ourselves—from making a business plan to financial projections to pitching potential investors."
The Anti-Typical Workday
"Every day is different. The fun thing about this job is that there is no set schedule. We are constantly putting out fires and managing the day-to-day of the newsletter but also trying to focus on being forward-thinking for what our business will need in a year, five years, etc."
Keeping Things Conversational
"We created the voice of theSkimm that sounds like your friend telling you what you need to know to start your day. We break down stories so that you have a background and the update—and also the bigger takeaway, which is exactly how you would tell your friend what's going on."
Finding The Story
"We were trained at NBC News to know the news cycle—when things break, when they have hit their high point in the news cycle and when they're still developing. So it's pretty easy for us to decide when our audience needs to pay attention to something. And the idea behind theSkimm is that you should feel confident walking into any situation and feel like you have something to say to the person next to you no matter their industry."
Dividing and Conquering
"We are co-founders, co-CEOs and co-managing editors. As equal as we are in this, we definitely divide up what we focus on into two main aspects—running the newsletter and creating future products."
Building An 'A' Team
"Our team has grown from the two of us on our couch in 2012 to a team of 16. We really pride ourselves on the fact that we've built a team of committed individuals who are also genuinely good people. Everyone has a personal stake in the success of theSkimm, and a drive and a scrappiness that are integral to our success."