Go Inside The Zoe Report's Summer Party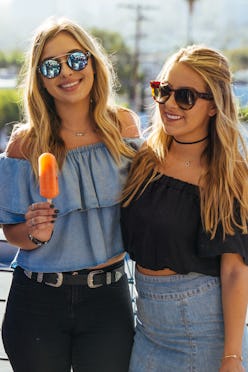 Every third Thursday, Team Zoe celebrates summer by throwing an exclusive soiree. Up on our gorgeous rooftop, with a sunny, scenic view of West Hollywood, our friends gather to mingle while sipping refreshing cocktails and indulging in delicious appetizers and Popsicles. With no shortage of fun, guests battle it out on the ping-pong table, enjoy tunes from our DJ and get pampered with complementary beach waves, glam manis and colorful makeovers. Ahead, a peek into how we do summer with the coolest party of the season.
Paloma's Paletas Popsicles
Paloma's Paletas pineapple-mojito and pink lemonade Popsicles are an immediate fruity hit.
Third Thursdays
Afternoon sunshine, gorgeous florals and LA views kick off the coolest Zoe Report party yet.
Playa Provisions
Guests enjoy delicious albacore tacos while listening to the rooftop DJ's set.
Stillhouse
Crowds flock to try Stillhouse's crafty whiskey summertime cocktails.
Birch & Bone and ColourPop
Clusters of Birch & Bone arrangements complement multiple shades of ColourPop's ultra-matte lip formula.
Pavo Real
There's nothing like a variety of refreshing wines to celebrate an ideal summer evening.
Bend Goods
Clusters of adorable Bend Goods furniture are perfect for casual chats and offer comfy respite from the sun.
The Beach People
Bohemian beach-ready towels turn Team Zoe's rooftop into a summer escape.
Sonix
Guests battle with some friendly competition at the Sonix ping-pong table.
NCLA
An envy-inducing haul of summer-ready goodies provided by Bumble & Bumble, NCLA, ColourPop and The Beach People.
Bumble and Bumble
Gorgeous beach waves are the final touch to Team Zoe's summer beauty look.