All The Books You'll Want To Add To Your Picnic Or Beach Bag This Spring And Summer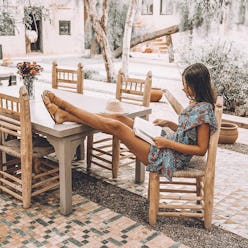 While some of us may still be hiding from late-season blizzard conditions with winter's best books, it's time to turnover that old-news list in favor of more novel reads. The current spring and upcoming summer seasons offer more than a few doozies in this department, too. From the tell-all of an IRL Carrie Bradshaw (if CB were a NY Post writer/standup comedienne who'd been publicly lambasted by Andy Dick, dated Aaron Sorkin and received life-altering advice from BFF Courtney Love), to an exploration around the cultural impact of Sex and the City, and with marquee authors ranging from Rachel Kushner to David Sedaris, this season's must-reads offer humor, thrills, intrigue (from James Comey, no less), a call to further arms for feminists, and more.
Below, find 20 books you'll want to add to *all the bags* this summer.
Bookworm Fodder
Unwifeable: A Memoir by Mandy Standtmiller
This memoir details the tawdry (and occasionally A-list) flings of sex columnist Mandy Stadtmiller after she moves to New York in the wake of a divorce. It reads like one long Sex and the City column...with fewer puns and more grit.
Release date: Out now Unwifeable: A Memoir, $26
The Female Persuasion
The Female Persuasion follows a college student who's mobilized to the feminist cause after being assaulted on campus by a Gloria Steinem-esque character. The book's timing is fortuitous, as Wolitzer couldn't have known its #MeToo moment would bear such added weight in 2018. In recent press, this book has been called a "feminist blockbuster."
Release date: Out now The Female Persuasion, $17
Look Alive Out There by Sloane Crosley
I Was Told There'd Be Cake writer Sloane Crosley is back with another book containing the type of essays which first won her acclaim ten years ago. This one covers her walk-on role on Gossip Girl, the harvesting of an ungodly number of eggs in the freezing process, her obsession with a teenaged neighbor, and more with signature accessibility and wit.
Release date: Out now Look Alive Out There: Essay, $18
A Higher Loyalty: Truth, Lies & Leadership by James Comey
Love him or hate him, you know you want to read James Comey's highly anticipated tell-all.
Release date: April 17, 2018 A Higher Loyalty: Truth, Lies & Leadership, $16
The Mars Room by Rachel Kushner
You may recognize Rachel Kushner as the author of The Flamethrowers, her buzzy 2013 novel which was a National Book Award finalist. Here, she returns to the page with the Orange Is The New Black-esque (minus the quirky humor) story of a woman serving two life sentences in prison for killing her stalker.
Release date: May 1, 2018 The Mars Room, $18
Barracoon by Zora Neale Hurston
Remember the book Their Eyes Were Watching God? Author Zora Neale Hurston is back, posthumously, with what's being billed as a "major literary event." Barracoon tells the true story of Cudjo Lewis, the last known survivor of the Atlantic slave trade. It's based on interviews Hurston conducted in the 1920's and 1930's with Lewis.
Release date: May 8, 2018 Barracoon, $23
That Kind of Mother
This book, from the author of Rich and Pretty, has been billed one of the most anticipated of 2018. It covers a broad swath of issues—white privilege, interracial adoption, female friendship, and motherhood—but without hitting any nails too hard on the head.
Release date: May 8, 2018 That Kind of Mother, $22
Not That Bad: Dispatches from Rape Culture edited by Roxeane Gay
Bad Feminist author Roxane Gay edited this collection of first-person essays which explore topics ranging from the rape of refugees to child molestation. It may not be the light and sunny reading you're used to this time of year, but it's bound to be buzzy nonetheless.
Release date: May 1, 2018 Not That Bad: Dispatches from Rape Culture, $27
The High Season by Judy Blundell
If you need a fluffier read that screams summer, this could well be the one. The High Season is about a family whose year-round home—and then, life—is overtaken by rich summer renters.
Release date: May 22, 2018 The High Season, $27
The Outsider by Stephen King
Stephen King's latest book concerns the murder of an 11-year-old, evidence from which seems to point to one of the town's most popular citizens. As the story unfolds, "strong tension" and "unbearable suspense" kick in, according to King's publisher. Additional details are being kept mum as of now, but there's little doubt The Outsider will be a nail-biter.
Release date: May 22, 2018 The Outsider, $21
Calypso by David Sedaris
David Sedaris' newest book offers a hilariously dim view of middle age. It tackles everything from dark family dynamics to tumors and beyond with Sedaris' signature wit.
Release date: May 29, 2018 Calypso, $26
Florida by Lauren Groff
Florida is the newest book from Fates and Furies author Lauren Groff. It's a collection of short stories which portray its title state in ways rarely seen.
Release date: June 5, 2018 Florida, $25
Sex and the City and Us: How Four Single Women Changed The Way We Think, Live, and Love
Still obsessed with Sex and the City all these years later? This book, from the author of Seinfeldia, deep dives into the phenomenon and features exclusive interviews with Sarah Jessica Parker, Michael Patrick King, Darren Star, the original book's author Candace Bushnell, and more.
Release date: June 5, 2018 Sex and the City and Us, $26
Give Me Your Hand by Megan Abbott
Give Me Your Hand author Megan Abbott is a celebrated writer of crime novels. This new psychological thriller tells the tale of a female friendship rocked by a Big Little Lies-esque secret, which is only revealed to the reader some time after the two main characters are forced to reconnect a decade later.
Release date: July 17, 2018 Give Me Your Hand, $22
How Hard Can It Be? by Allison Pearson
How Hard Can It Be? is a sequel to the bestselling I Don't Know How She Does It; here, the protagonist turns 50 with difficult teenage children, ailing parents, a husband in the midst of a midlife crisis, and an uncertain career future after returning to the hedge fund she founded.
Release date: June 5, 2018 How Hard Can It Be?, $23
Not Her Daughter by Rea Frey
This is the tense story of a child kidnapped away from a mother who isn't sure she wants her back.
Release date: August 21, 2018 Not Her Daughter, $16
Her Pretty Face by Robyn Harding
Like Give Me Your Hand, this book's also got Big Little Lies potential and even features a similar storyline. Its story revolves around two mothers isolated from a group of moms at their kids' school, one of whom has a very dark secret.
Release date: July 10, 2010 Her Pretty Face, $26
Three Days Missing
For some reason, there are going to be a lot of missing kids this season! This is another thriller about a child who vanishes and, according to early reviews, its plot twists do not disappoint.
Release date: June 16, 2018 Three Days Missing, $16
Brazen: Rebel Ladies Who Rocked The World by Pénélope Bagieu
This is a graphic novelist's retelling of the stories around some of history's most notable lady rebels.
Release date: Out now Brazen: Rebel Ladies Who Rocked The World, $21
Well, That Escalated Quickly: Memoirs and Mistakes of an Accidental Activist by Franchesca Ramsey
This is the true story of a YouTube vlogger who accidentally became famous when one of her videos, "What White Girls Say... To Black Girls" went viral.
Release date: May 22, 2018 Well, That Escalated Quickly: Memoirs and Mistakes of an Accidental Activist, $19